In a shocking revelation, it is reported that the Indian football team had been relying on an astrologer before their Asian Cup Qualifiers matches in 2022, reported The Indian Express on Tuesday.
India's head coach Igor Stimac, a Croatian, had been in contact with an astrologer from Dehli, named Bhupesh Sharma, who was introduced to him by a top All India Football Federation (AIFF) official.
On June 9, 2022, two days before the Blues were scheduled to take on Afghanistan in the Asian Cup Qualifiers, Stimac sent a message to Sharma which stated the following:
"Hi dear friend, you can check charts for each player from the list for 11 June. Kick off time is at 20.30."
The "list" Stimac referred to was the names of the players that were part of the starting XI of the must-win game for the out-of-form Indian side that was also struggling with injuries.
India had to win that game to remain in contention for the prestigious continental championship.
However, just a few hours after Stimac sent the message, he got a reply from Sharma who gave his remarks to each name with; "Good"; "can do very well. Needs to avoid over confidence"; "a below average day"; "a very good day for him but might get over aggressive"; "not recommended for the day".
Following Sharma's remarks, Stimac named the lineup and two players, whose stars weren't favourable on that day, did not make the lineup.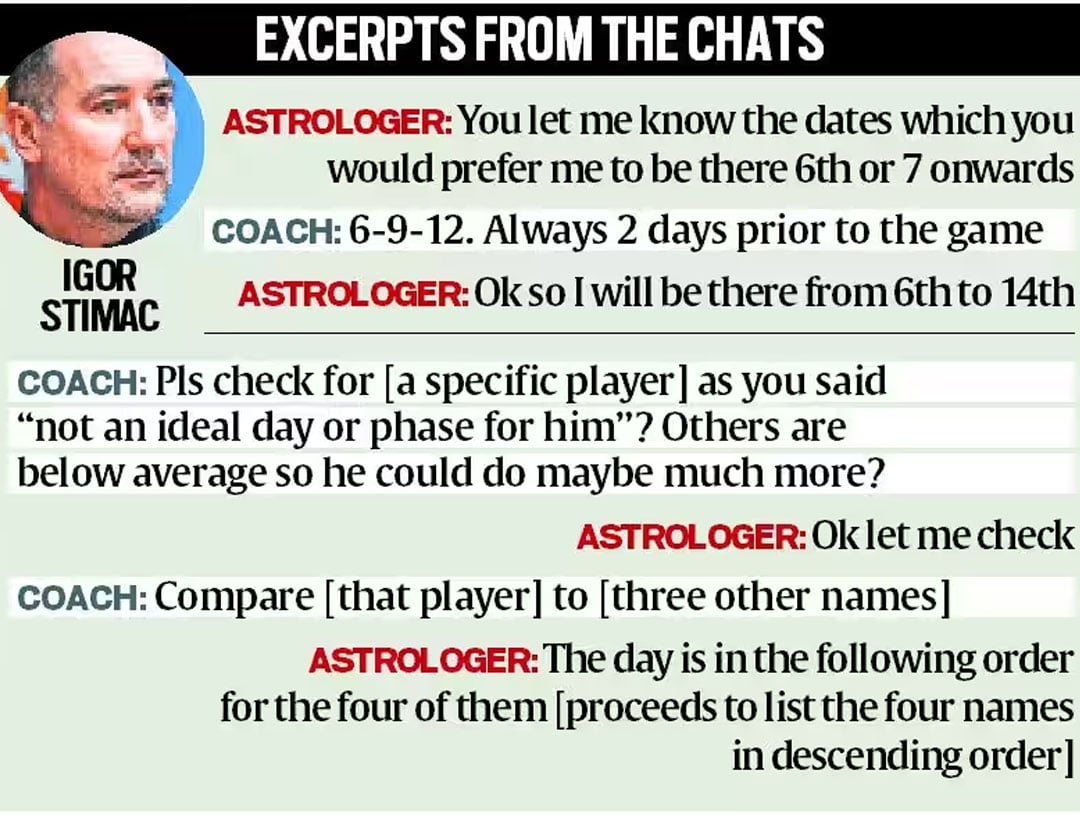 However, this was not the only conversation between as there had been close to 100 messages exchanged between May-June, 2022 when the Blues played four matches.
They played three Asian Cup Qualifiers games against Cambodia, Afghanistan and Hong Kong and a friendly against Jordan.
The messages further show that Stimac would seek Sharma's input before each game and name the playing XI and other plans accordingly.
The shocking revelations have raised not only serious questions on the selection process of the Indian team but also about the role of merit and crucial information being shared with an outsider.