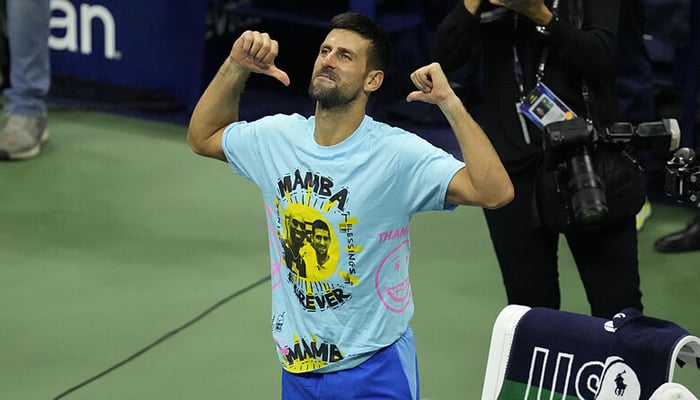 Novak Djokovic beat Daniil Medvedev 6-3 7-6(5) 6-3 to win the US Open on Sunday and equal Margaret Court's record haul of 24 Grand Slams.
Djokovic's victory, his fourth in 10 Flushing Meadows finals, capped another remarkable season after his wins at the Australian Open and Roland Garros, and he will return to the top of the world rankings when they are updated later on Monday.
After clinching his historic title on Sunday Djokovic threw his racquet into the air and dropped to his knees as the crowd roared.
He picked himself up and found his young daughter court-side for an emotional hug before going back to the bench and pulling out a T-shirt with 'Mamba Forever' on the front and the number 24 on the back.
The shirt was a tribute to both his achievement and to his late friend Los Angeles Lakers great Kobe Bryant, who wore the number throughout much of his all-star career before dying in a helicopter crash.
"I thought of doing this T-shirt, eventually, if I get the chance to win the tournament," said Djokovic. "Kobe was a close friend, we chatted a lot about the winner's mentality.
"When I was struggling with injury he was one of the people I relied on the most."
No man has won a calendar Grand Slam in 54 years, though Djokovic came close once again, losing in five sets to Carlos Alcaraz in the Wimbledon final.
But for the moment he is savouring his 24th Slam.
"It obviously means the world to me," he said. "I'm really living my childhood dream.
"To make the history of this sport is something truly remarkable, it's hard to describe the words.
"I had the childhood dream when I was seven, eight, I wanted to become the best player in the world."
As he continues to live his dream Djokovic is also staking his claim to the mantle of greatest tennis player of all time.
At 36 Djokovic also becomes the oldest U.S. Open men's winner in the Open Era but the Serb's Grand Slam hunger has not dimmed and he had some bad news for his younger rivals.
"Eventually one day I will leave tennis in about 23, 24 years," he joked. "Until then, I guess you'll see me a bit more.
"I don't put any number right now in my mind on how many Slams I want to win.
"I'll continue to prioritize them as my most important tournaments and where I want to play the best tennis."
— Additional input from Reuters