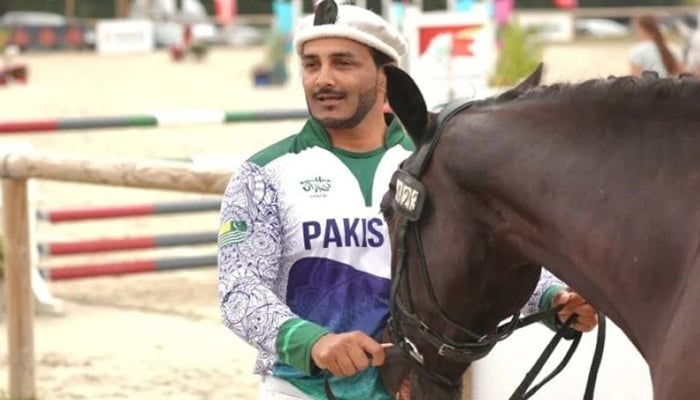 LAHORE: Pakistan's star eventer (equestrian) Usman Khan has retained summit ranking in Paris Olympics Group F-eventing.
As per the FEI fresh ranking list, covering points of events conducted until August 31, Usman has been able to retain the top spot in his group with five points.
Jessica George of South Africa and Noor Slaoui of Morocco follow him at the second and third spots with four points each to their credit.
South Africa's Alexandra Munn and Alexander Peternell with two points each stand at the fourth and fifth spots respectively.
"Pakistan is the first country to gain Olympic qualification in Group F. We are leading by one point. We can't over-compete the same horse. Having a second horse will really help us" Usman told The News from France on Saturday.
Last July Usman blasted his way into the 2024 Paris Olympics. He achieved the milestone in the FEI four-star event in Mallow, Ireland, by achieving MER and Pakistan was the first in it's group to make it to the world's most prestigious event.
Usman will need to show consistency in his performance during the next few months in the four-star events.
He is working really hard to maintain his supremacy in his group and it is highly expected that he would create history when he will be the first equestrian in the history of Pakistan who will be able to represent Pakistan in the Paris Olympics to be held next year. After fate denied him an opportunity to feature in the Tokyo Olympics despite qualification, Usman did not lose heart.
He took time in recovery from an accident he had met with just before the finish-line at the Tokyo Olympics Qualifiers in May 2021 in Australia and began his quest for another milestone almost two years ago. And it was the soil of Ireland which proved lucky for the star equestrian where he earned Paris Olympics qualification.
In 2019 Usman became the first equestrian of Pakistan to qualify for the Olympics. But unfortunately Usman's horse Azad Kashmir died in September 2020.
It meant Usman had to revise his qualification with his new horse Kasheer. But the duo met with an accident just before the finish-line in the Olympics Qualifiers in Australia, resulting in Kasheer's death on the spot with the eventer getting critically injured and was taken to hospital.