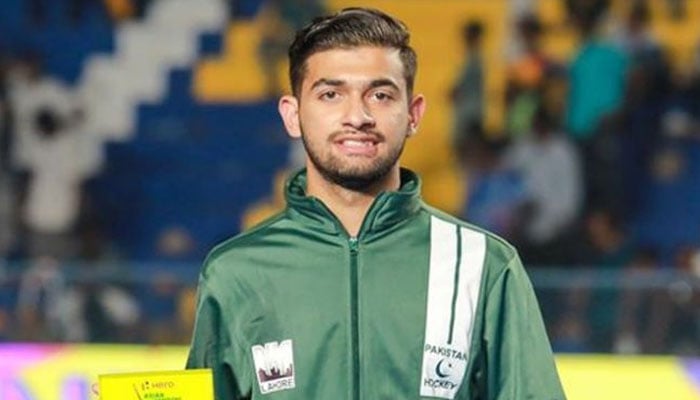 KARACHI: The Pakistan Hockey team suffered a major blow ahead of the Asian Games when its finest player Abdul Hanan Shahid was ruled out of the continental sporting pinnacle.
An official of the Pakistan Hockey Federation (PHF) confirmed to Geo News that Hanan has been ruled out of the Asian Games due to a hairline fracture in his left index finger.
"We are making arrangements to get approval for a replacement," the official told Geo.
He confirmed that Abdul Hanan Shahid, who has scored 10 goals in 25 outings for Pakistan, suffered the injury during the recently held Marri Petroleum's Azadi Cup Hockey tournament.
The 17-year-old forward was recently declared emerging player of the tournament at the Asian Hockey Champions Trophy in India. He was also the best player in Junior Asia Cup and Pakistan was banking on his skills for the Asian Games.
Hanan also confirmed the development on his social media account.
"Due to a fracture in my finger, I am not able to participate in the Asian Games, 2023. It was my dream to play Asian Games for Pakistan but sadly, I can not. Best wishes for Pakistan," he posted on the social media forum "X", formerly known as Twitter.
Another player, Aqeel Ahmed, is suffering from a back injury, however the PHF hasn't made a final decision on his exclusion from the Asian Games squad.
They're waiting for further tests to assess his injury.
However, Ahtisham Aslam — who was suffering from eye issues — is getting better and PHF is hopeful that he'll be available for the Asian Games.
Pakistan is the most successful team in the history of Asian Games Hockey with 8 gold medals, 3 silver medals, and 3 bronze medals. However, they finished 4th in the previous Asian Games held in Indonesia after losing to India in the bronze medal match.
The Green Shirts are grouped with Bangladesh, India, Japan, Singapore, and Uzbekistan and this year's Asian Games and they'll kick off their campaign on 24 September with the game against Singapore.
Faizan Lakhani is Deputy Editor (Sports) at Geo News.