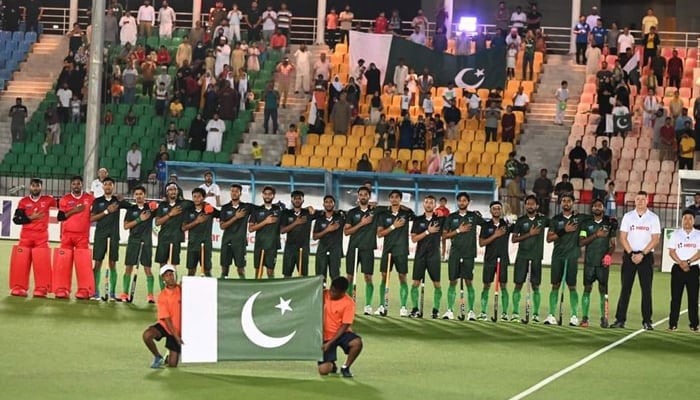 KARACHI: After a gap of three years, the Pakistan Hockey Federation (PHF) announced that it is organising the National Hockey Championship.
According to the announcement by PHF, the 67th edition of the National Hockey Championship will be played next month in Rawalpindi.
"The Pakistan Hockey Federation has revealed plans for the 67th National Hockey Championship, which will be conducted in collaboration with the Army Welfare Trust. The event is scheduled to take place from October 12 to October 23," said the statement by PHF.
"The National Senior Hockey Championship will be hosted at the Lt. Gen. Ashfaq Nadeem Hockey Stadium, Ayub Park, Rawalpindi," the statement added.
The spokesman of the Pakistan Hockey Federation further said that the tournament will feature all affiliated provincial units and departmental teams.
"As per directive issued by Haider Hussain Secretary General PHF, all affiliated provincial and departmental units intending to take part in the event are directed to confirm their participation before September 18," he said.
"The upcoming national hockey championship will provide a platform for skilled players to showcase their abilities. Throughout the event, the national hockey selection committee will assess the performances of these talented players and subsequently provide their assessments and recommendations," he added.
It is worth mentioning that the last edition of the National Hockey Championship was played in November 2020. 
WAPDA had defeated National Bank on penalty shootouts to win the 66th edition of the national championship.
Faizan Lakhani is Deputy Editor (Sports) at Geo News.