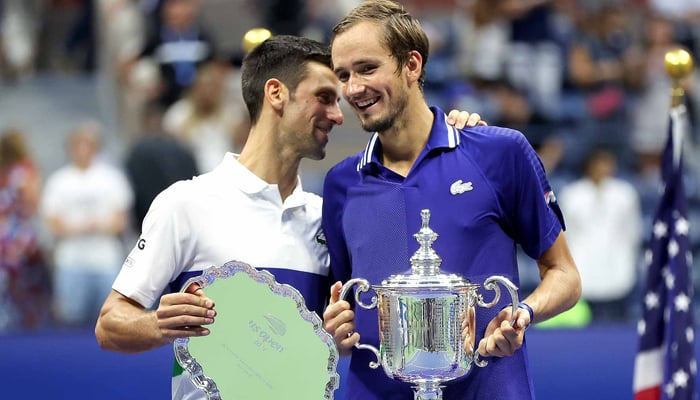 Daniil Medvedev has opened up about facing Novak Djokovic in Sunday's US Open final and stated that he will try to produce his "best-ever version" to beat the record-23-time Grand Slam champion.
Medvedev prevailed 7-6(3) 6-1 3-6 6-3 against top seed and defending champion Carlos Alcaraz on Friday, with the 27-year-old setting up a rematch of his triumphant 2021 finale against Djokovic.
Djokovic, 36, is looking to win his fourth Open title that would see him equal Margaret Court's record haul of 24 Grand Slams.
"He (Djokovic) is always better than the previous time he plays. For example, I beat him in the U.S. Open final, he beat me in Bercy (Paris Masters) in a great match. Carlos beat him in Wimbledon, he beat him in Cincinnati," Medvedev told reporters.
"Novak is going to be his best version on Sunday, and I have to be the best-ever version of myself if I want to try to beat him.
"Novak, when he loses, he's never the same after... It's just a different mentality... So, I have to use it knowing that he's going to be 10 times better than he was that day. And I have to be, if I want to still beat him, 10 times better than I was that day."
Medvedev, however, said he will not change his pre-match routine before locking horns with Djokovic.
"I'm going to do all the same. It's just the mental preparation where... you want to fight till the end, you want to win, and that's how you should be in the final of a Grand Slam," he said.
Medvedev said that the victory over Alcaraz was a confidence boost but acknowledged that he would be "hell-disappointed" if he were to go down in the final despite a successful run at New York.
"To know I'm capable of doing it on the big stage every time you do it one more time brings more confidence," Medvedev added.
"You know you can do it again. You want to do it again. You want to feel this. And at the same time, what is most important is to kind of use it but forget about it and go for the next one."