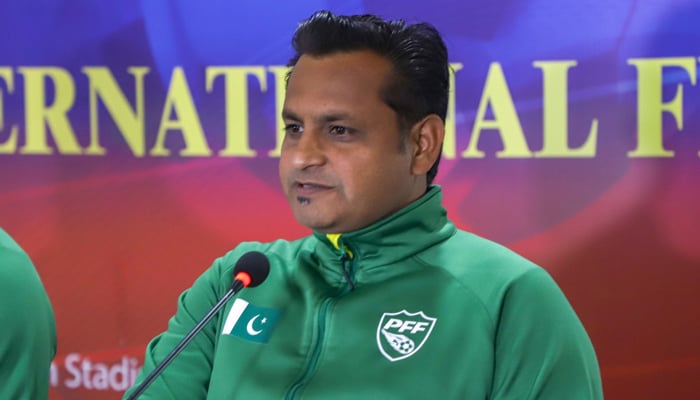 LAHORE: Pakistan were off to a poor start late Wednesday night when they were demolished by Japan 6-0 in their Group D opener of the 2024 Under-23 Asian Cup Qualifiers at the Shaikh Ali bin Mohammed Al Khalifa Stadium at Muharraq Club in Arad town in Bahrain.
After producing two top-notch saves, goalkeeper Salman-ul-Haq could not deny Japan's opening goal in the 11th minute when Ryuya Nishio connected with a precise corner-kick.
It took Japan until late in the first half to add to their advantage, netting twice in a space of four minutes through Shunsuke Mito (43rd) and Mao Hosoya (45th+2) for a comfortable lead going into the break.
Japan continued to pile on the pressure in the second half and increased their lead from the penalty spot, first from Hosoya (51st) then captain Joel Chima Fujita in the 59th minute. Matching Hosoya's contribution, Mito also grabbed a second when he struck in the 64th minute.
"Yes it was indeed a tough game as Japan were stronger. We hardly trained for two weeks," Pakistan head coach Shehzad Anwar told The News from Bahrain.
"Japan were doing shuffling and it was indeed difficult for our defenders to tackle their strikers. If you are to handle such a team you need to play games with the sides which play like this. Vietnam and Korea also play like this," Shehzad said.
However, he hoped that his charges will do well against Bahrain and Palestine in their next two matches.
"I am confident we will do much better against them," Shehzad said.
Former Pakistan assistant coach Nasir Ismail was also disappointed by the huge loss.
"Japan are a big team, no doubt, but Pakistan played a poor game. The defence did not seem organised, there was no proper marking with the strikers and if you give them room and allow the opposition to dominate the game for all 90 minutes then you will face such a result," Nasir told this correspondent.
"You played with nine players as the overseas just joined the side before the game.
"In front of Abdullah Iqbal goals were easily scored. The losing margin should have been smaller. Majority of the players have been with the unit for the last one year."
Pakistani goalie Salman got injured during a valiant attempt.
This correspondent learnt that his MRI was conducted. The report is clear but he still feels pain in his ribs. If he is unable to recover then Shehzad will have to opt for another goalie in the next show against Bahrain. In the other show of the same group, Palestine downed Bahrain 1-0.