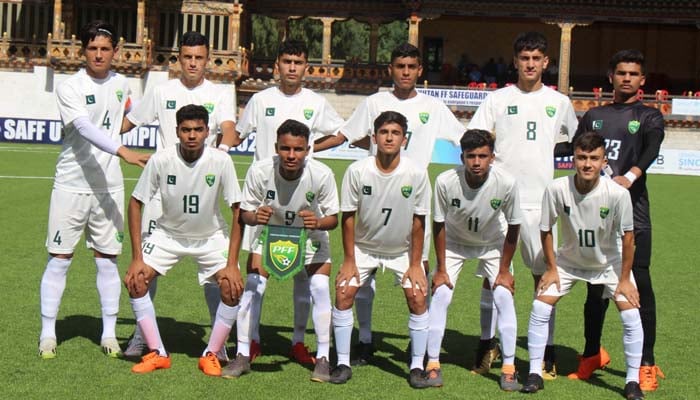 Pakistan beat Maldives 3-0 to qualify for the semi-final of the SAFF U16 Championship's semi-final in Bhutan on Monday.
In-form green shirts outclassed opponents by scoring their first goal in the 14th minute thanks to Subhan Karim.
The Maldives looked shaky and remained goalless throughout. Abdul Samad doubled the lead in the 39th minute for Pakistan.
Maldives' goalkeeper gave away an own goal to help Pakistan take 3-0 lead in the last part of the game.
Pakistan will now meet group A's runner-up in the semi-final on September 8.
Pakistan beat Bhutan in opening match
The Pakistan U16 football team beat the hosts Bhutan 2-1 in their opening match at Changlimithang Stadium in Thimphu, Bhutan on Saturday.
The home side scored the first goal but their lead was overturned by the Men in Green as they scored two goals in the first half and got into a dominating position.
Tandin Phuntsho gave his side an early breakthrough by scoring a goal in the 13th minute but Pakistan resisted and pulled one back just four minutes after the hosts' opener.
Pakistan's captain Ubaid Ullah Khan equalized in the 17th minute and the Green Shirts continued with their attacking display.
The hard work paid off in the 30th minute when Subhan Karim scored the second which turned out to be a winner for his side.
The first-half ended 2-1 in favour of Pakistan and the scoreline remained the same until the final whistle.