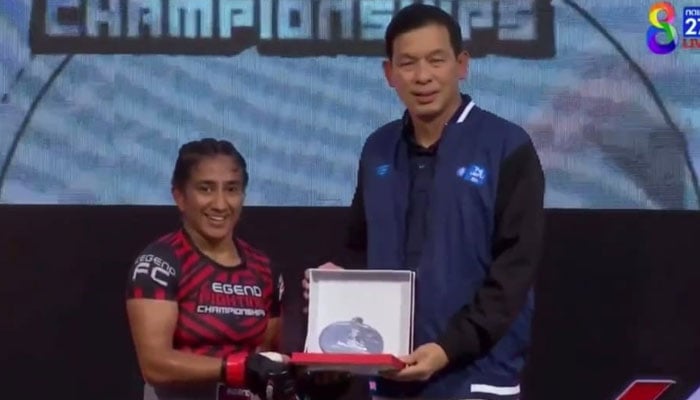 Pakistani MMA star Anita Karim recorded a remarkable victory in the ongoing Legends Fighting Championship in Thailand on Sunday.
Anita practised Rear Naked Choke (RNC) on her Thai opponent and forced her to give up.
The historic victory for the Hunza-born female athlete came during the second round at the 1:25-minute mark.
Competing in the 52kg category, Anita dominated the fight since the start as she didn't give much ground to her opponent in the first round.
Anita's victory is a result of non-stop hard work and her dedication to the sport.
Her unmatched commitment to the sport has not only crumbled the stereotypes but also made way for many girls who aspire to become MMA champions.
Her win at the Legend Fighting Championship would not only work a as beacon of hope among many youngsters who aspire to become an MMA icon, but it is also a testament to the potential and talent that lies across the country and with proper support and guidance, who knows how many champions Pakistan can produce.
Faizan Lakhani is Deputy Editor (Sports) at Geo News.