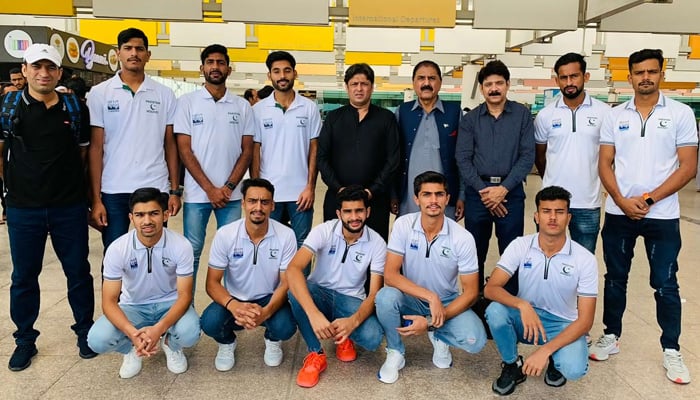 LAHORE: Pakistan hockey team set off from Islamabad Airport for Salalah, Oman, where they are to participate in the five-a-Side World Cup Qualifier event.
Pakistan's first match against Japan is scheduled for August 29.
The 10 players are accompanied by head coach Olympian Wasim Feroze and manager Major Muhammad Shahnawaz Khan.
Present at the send-off were Secretary General Haider Hussain of the Pakistan Hockey Federation, Rana Muhammad Shafiq from the National Selection Committee, Muhammad Asif, Senior Vice President of the Islamabad Hockey Association.
Speaking on this occasion, captain Rana Abdul Waheed expressed the team's commitment to victory. Waheed requested the nation's unwavering support and prayers, expressing optimism that the team would return to Pakistan victorious.
Olympian Waseem Feroze underlined the unique challenges and rapid pace of Five-a-Side Hockey. He commended the impressive form displayed by the Pakistan team members, confidently predicting their realisation of their goal to qualify for the world cup.
The five-sided Asia Cup will showcase the talents of 11 participating teams, including Pakistan and India, along with Afghanistan, Indonesia, Iran, Japan, Bangladesh, Hong Kong China, Kazakhstan, Malaysia, and the host country Oman.
Pakistan squad
Abdullah Ishtiaq Khan, Ali Raza, Muhammad Abdullah, Ehtsham Aslam, Muhammad Murtaza Yaqoob, Arshad Liaquat, Zakriya Hayat, Rana Abdul Waheed Ashraf, Abdul Rehman, and Abdul Wahab.
Pakistan's schedule
Aug 29 - Japan
Aug 30 - Bangladesh
Aug 30 - India
Aug 31 - Oman
Aug 31 - Malaysia