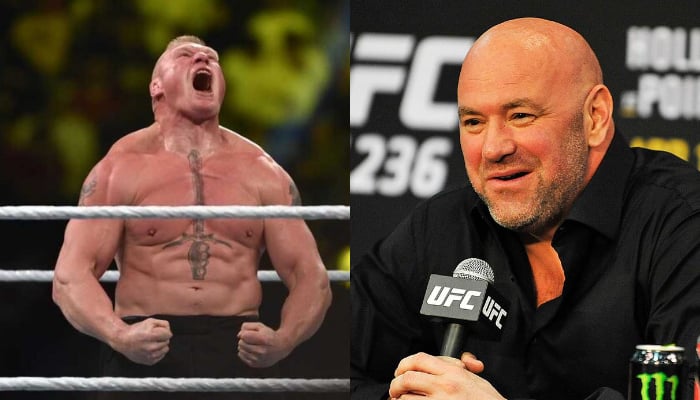 UFC Boss Dana White on Monday addressed the rumours of Brock Lesnar's return to the Ultimate Fighting Championship (UFC).
Lesnar lost his most recent fight in the World Wrestling Entertainment (WWE) against Cody Rhoades.
After the fight, he went to Rhoades and hugged him before raising his hand. After this unusual and un-scripted moment of respect by Lesnar, many started to think that he might be saying goodbye to WWE.
Surprisingly, just before his fight with Rhoades, the reports of Lesnar training with a strength and conditioning coach circulated through the media which made many wonder if he was preparing for a shock UFC return as his body looked much better than before.
White couldn't refrain from praising the 46-year-old's body but at the same time, he also dismissed all the speculation regarding his return to the UFC.
"Brock looks good, doesn't he?" said White. "He always does.
"I think Brock's done. I don't think he ever comes back."
Lesnar joined UFC in October 2017 on a one-fight contract and made his debut against Frank Mir on February 2, 2008 at UFC 81: Breaking Point.
Although he lost his debut fight, he was offered a new contract.
The 46-year-old registered his first UFC win against Heath Herring at UFC 87 with a unanimous decision.
After this he faced Randy Couture for the UFC Heavyweight Championship at UFC 91 on November 15 and won the fight with a Technical Knockout (TKO) and became the champion.
After the fight, Lesnar had two successful title defense as he beat Frank Mir and Shane Carwin at UFC 100 and UFC 116 respectively.
After three successive wins, Lesnar's next title defense was against Cain Velasquez at UFC 121, which he lost.
After losing his title to Velasquez, Lesnar lost one more fight against Allistair Overeem at UFC 141 after he decided to retire.
In 2016, the American made his UFC return and announced a fight against Mark Hunt.
He won the contest against Hunt but the decision was changed to a no contest after testing positive for a banned substance.