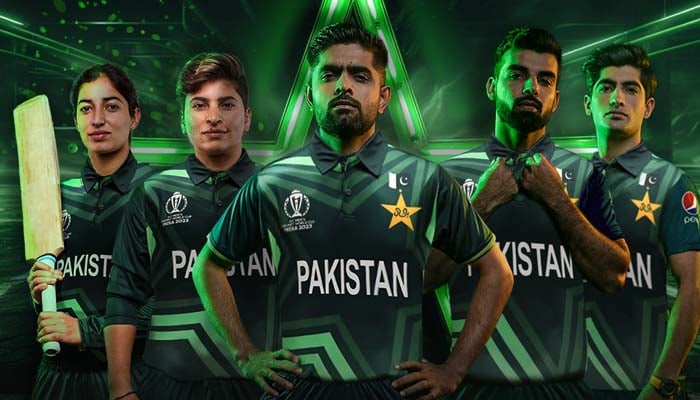 Pakistan Cricket Board (PCB) Management Committee chairman Zaka Ashraf alongside COO Salman Naseer unveiled the national team's World Cup kit in Lahore today.
The kit is named 'Star Nation Jersey' which has a star and Pakistan flag on the chest side.
Speaking on the occasion, Ashraf said this jersey represents Pakistan's spirit and determination as they are already sitting on the number one position in the ODI format.
"We have kept Pakistan's star and flag on the chest which represents our identity. I am hopeful that our team, who is already number one in ODIs, will win the World Cup in India," he said.
Pakistan will start their World Cup campaign against the Netherlands on October 6 in Hyderabad. They will play against their arch-rivals India in a much-awaited contest on October 14 in Ahmedabad.
Here is Pakistan's schedule for the ICC World Cup 2023:
October 6 - vs Netherlands in Hyderabad
October 10 - vs Sri Lanka in Hyderabad
October 14 - vs India in Ahmedabad
October 20 - vs Australia in Bengaluru
October 23 - vs Afghanistan in Chennai
October 27 - vs South Africa in Chennai
October 31 - vs Bangladesh in Kolkata
November 4 - vs New Zealand Bengaluru (Day match)
November 11 - vs England in Kolkata
The day matches which will start at 10:00am Pakistan Standard Time (PST) while all other matches will be day-night fixtures starting at 01:30pm (PST).
If Pakistan qualify for the semi-finals, they will play in Kolkata.
If India qualify for the semi-finals, they will play in Mumbai unless playing against Pakistan, in which case they will play in Kolkata.
The Cricket World Cup will be played in the round-robin format with all teams playing against each other for a total of 45 league matches.
The top four teams will qualify for the semifinals, which will be held in Mumbai on November 15 and in Kolkata on November 16. The semi-finals and the final will have reserve days.