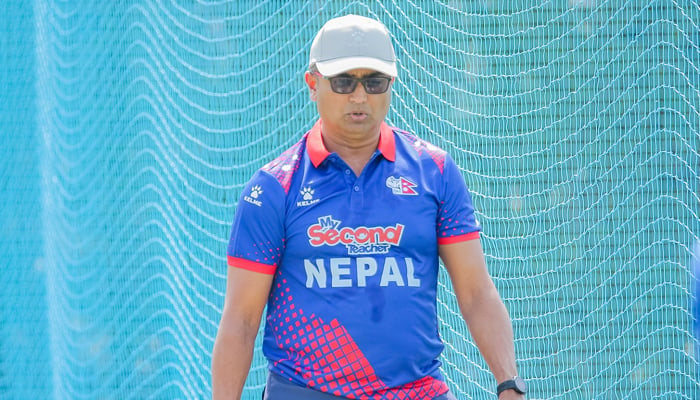 Nepal cricket team's head coach Monty Desai on Thursday stated his players can learn a lot as they are in the same group as Pakistan and India in the Asia Cup 2023.
Desai, born in India, joined Nepal as a head coach and has already done wonders by making them qualify for their first-ever Asia Cup and ICC Men's Cricket World Cup 2023 Qualifiers.
With Asia Cup just around the corner, Desai wants his team to put up their best performance in the tournament.
"Nepal qualified for the Asia Cup, it is a historic achievement," said Desai. "The Pakistan Cricket Board (PCB) have made great arrangements for training. Karachi's atmosphere is very good."
"We are in the same group as Pakistan and India, it will be a great opportunity for players [to learn].
"I cannot say that we are going to win. Our players have only seen these top cricketers on television.
"Sandeep Lamichhane will be joining us on August 28."
He also expressed his wish for big names from Pakistan to come to visit their camp.
"I am a big fan of Waqar Younis. I want big names from Pakistan to visit our camp and share their experiences with the players."
It must be noted that the Nepal cricket team reached Karachi on Wednesday (August 23).
They are training at National Bank Stadium and will also play practice matches before leaving for Multan on August 27.
Nepal will be playing their first-ever Asia Cup this year. They are placed in group A alongside Pakistan and India.
The underdogs will play their first game against the hosts on August 30 in Multan and then against India on September 4 in Sri Lanka.
Squad
Rohit Paudel (c), Kushal Bhurtel, Aasif Sheikh, Bhim Sharki, Kushal Malla, Aarif Sheikh, Dipendra Singh Airee, Gulshan Jha, Sompal Kami, Karan KC, Sandeep Lamichhane, Lalit Rajbanshi, Pratish GC, Mousom Dhakal, Sundeep Jora, Kishore Mahato, Arjun Saud
Atique ur Rehman is a senior reporter for Geo News.