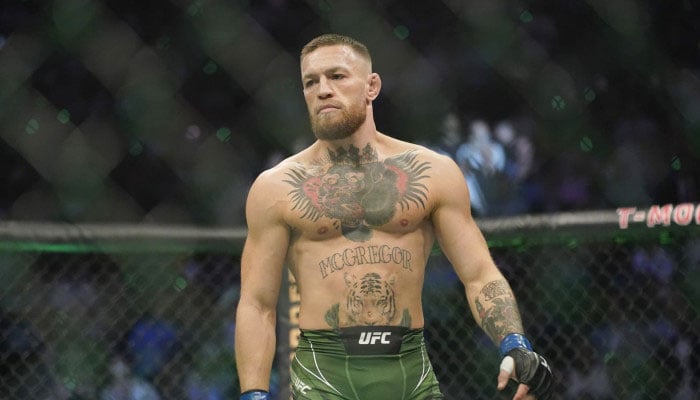 After living in denial for about a week, Conor McGregor has finally accepted the reality that he will not be making his UFC comeback this year.
McGregor was firm that his UFC comeback will be against Michael Chandler in December forgetting that before doing that he will have to enroll in the UFC's drug test program, which he has not been a part of since 2021.
"They're not going to let me fight in December, ladies and gentlemen," McGregor said in a series of X voice notes.
"I'm ready, yeah. I want in. I wanted the announcement, December 16.
"I've given everything. It's not going to happen. It doesn't look like it's going to happen. I thought we [confirmed it], but turns out, maybe it's not so much. I don't know.
"But anyway, I hold the power, and I'm going to keep doing my thing, I'm in a great spot, and I'll see you all soon. F****** early next year, hopefully.
"[Endeavor executive] Ari [Emanuel], my man, I'm ready, December 16, I'm ready. Anyone who wants to go December 16, I'm ready, anyone who wants to go."
The last time McGregor was in the octagon was during his fight against Dustin Poirier after which he spend almost two years out of action following a nasty leg break at UFC 264 in July 2021.
Earlier in mid of August, McGregor named three fighters he would like to take on in his next three fights.
"(Michael) Chandler next (in) December," McGregor said. "And then (Justin) Gaethje (for the) BMF (belt) and then we'll do Nate (Diaz) trilogy," he said.
There was a backlash to McGregor's announcement, where some professional MMA stars stated that he cannot be allowed before completing the required six-month drug testing program.
As per the UFC policy, any fighter needs to complete six months of mandatory drug testing before appearing in a fight.
It must be noted that the only way a UFC fighter can skip the mandatory drug-testing program is due to "exceptional circumstances".
Former UFC Star Brock Lesnar used this defense to compete on short notice against Mark Hunt at UFC 200 in 2016.
However, despite Lesnar winning with a unanimous decision, the result was later overturned to a no-contest after the WWE superstar failed both an out-of-competition and a night-of-fight drug test.