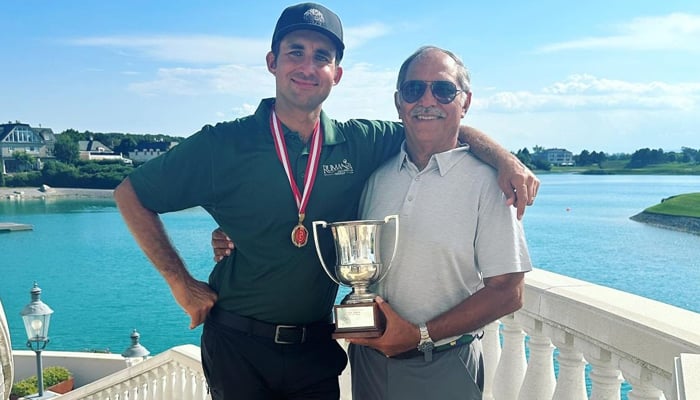 KARACHI: Pakistan's Hamza Amin overcame the elements and a stiff challenge from European Tour winner Martin Wiegele to claim the Austrian National Open Golf Championship in Oberwaltersdorf, Austria on Sunday.
With his father, the legendary Taimur Hassan on the bag, Hamza made a series of birdies to win the championship by two strokes. 
With scores of 71, 70, 75 and 69 in challenging conditions, Hamza representing Rumanza Golf Club, emerged on top with a fantastic back nine on Sunday, birdieing holes 11,13,15 and 17 to win by two shots.
"It's an amazing feeling to win the Open again, especially with my father on the bag. We created history and will have this memory forever. I was playing well but didn't have a good third round. Conditions were extremely difficult and the wind was blowing hard. Thankfully I birdied the 18th on Saturday to stay 2 behind and remain in the hunt. Psychologically that birdie gave me good momentum heading into the final round. The putter was cold all day but I told myself to stay patient and keep at it. That's when I started holing putts and making birdies," he told The News.
Taimur, Pakistan's most celebrated amateur golfer, was over the moon. 
"It was a wonderful experience to caddy for Hamza and be part of his victory. Great joy in the father and son combination," he said.
The National Open Championship is the largest golf tournament in the Austrian Golf Association's calendar spanning over four days. The tournament was played at the magnificent Fontana golf club which has hosted multiple European Tour events in the past. 
The professionals competed for a total prize fund of 20,000 euros. Players were contending for the national championship title and the prestigious legacy left by some national stars like Markus Brier, Niki Zitny, and Bernd Wiesberger.
With its renowned championship course that extends beyond national borders, Fontana Golf Club provided the perfect setting for an exciting and challenging championship this year with 151 players participating in the Open which is now in its 49th year. 
The National A team and B team under supervision of the Austrian federation coaching staff were also strong contenders for the title but in the end it was Hamza Amin who sealed the deal in dramatic style. 
While professionals vie for a winner's prize of 4,500 euros, amateurs are competing for the most prestigious title in Austrian golf: Austrian National Champion.