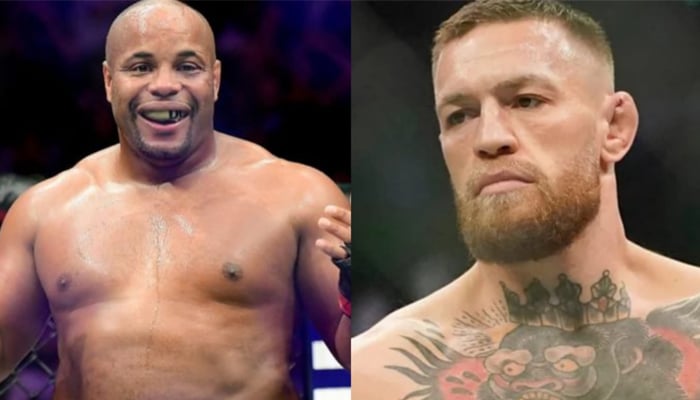 UFC star Daniel Cormier has questioned potential US Anti-Doping Agency (USADA) exemption with Conor McGregor's likely return to the Octagon in December.

The Irishman has not been a part of the testing pool since breaking his leg against Dustin Poirier in their trilogy fight at UFC 264 in July 2021, as official records on USADA's website show he is still yet to submit a drug testing sample since then.
As per the UFC policy, McGregor needs to complete six months of mandatory drug testing before appearing in a fight but he has not yet joined the testing programme.
Talking on his YouTube channel, Cormier raised questions over the Irishman's potential return in December.
"There really is no base amount of test that you have to take in order to be eligible," Cormier said on his YouTube channel.
"It's not like they say it's six clean tests before you can fight. They may test McGregor more and maybe it's not six months, maybe its three months and he takes as many tests as he needs to in order to be cleared to fight.
"Here's where the issue becomes: You make that exception, then how do you implement this rule for the rest of the people?" Cormier said. "We've seen exceptions before, and generally, they are for the most high-profile and best fighters in the world, which – Conor McGregor does fit into that category."
It must be noted that the only way a UFC fighter can skip the mandatory drug-testing program is due to "exceptional circumstances".
Former UFC Star Brock Lesnar used this defence to compete on short notice against Mark Hunt at UFC 200 in 2016.
However, despite Lesnar winning with a unanimous decision, the result was later overturned to a no-contest after the WWE superstar failed both an out-of-competition and a night-of-fight drug test.
Earlier, McGregor named three fighters he would like to take on in his next three fights.
"(Michael) Chandler next (in) December," McGregor said. "And then (Justin) Gaethje (for the) BMF (belt) and then we'll do Nate (Diaz) trilogy," McGregor said as quoted by Talk Sport.