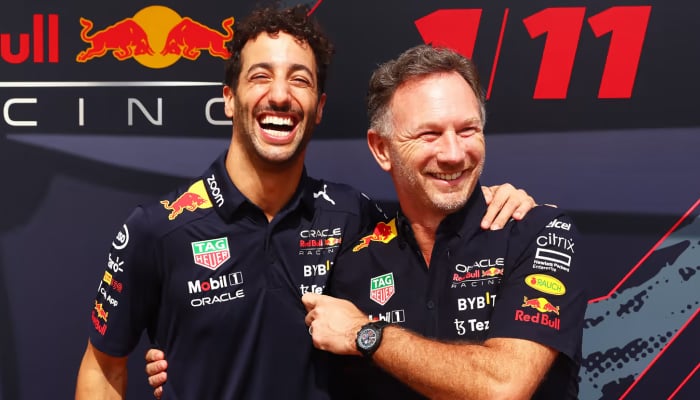 Former racing driver and current Team Principle of the Red Bull Formula One team, Christian Horner has talked about the bad habits his team picked from Australian racer Daniel Ricciardo.

Ricciardo was with Red Bull from 2014 to 2018 after which he joined Renault and McLaren where he spent two seasons and then returned to his old franchise in 2023.
Horner explained the bad habits the Australian picked during his time away from Red Bull and stated that his team had to undo some of the things that they picked from him.
"I think he picked up a lot of bad habits," Horner explained, quoted by Speedcafe.
"It took some of his old engineering team to unpick some of those and very quickly, in a virtual world, got back to where we expected – and on par – with what we were used to.
"Then, we just wanted to verify that in the real world and the tyre test provided that opportunity."
"I think the problem is that when you're driving cars that are difficult, it's sometimes a compromise to get the most out of them," added Horner, expanding on Ricciardo's "bad habits".
"I mean, his whole braking technique had changed dramatically from the technique that we were accustomed to.
"He was trying to put a sticking plaster on a weakness of the car to get it to rotate. I think once we don't pick that then you saw everything starts to become more natural."
Even though he did not race for the better part of seven months, Ricciardo was in better physical shape upon his return than he had been a year before.
"He's in great shape," the Red Bull Racing boss said. "He's always taking care of himself.
"If anything, when he came back, he looked like he hadn't eaten for three months. But he's in good shape.
"He did well over 100 laps, I think at Silverstone, which is a demanding physical circuit and then to jump in at Hungary, one of the most demanding tracks on the calendar and put in a stint like he did on the medium tyre, was hugely impressive."