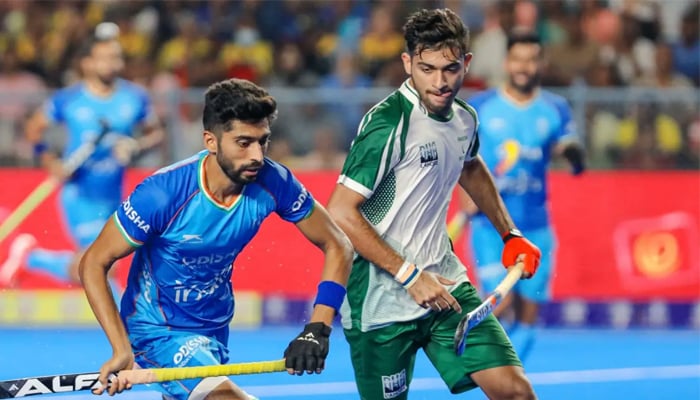 Pakistan hockey team is out of the Asian Champions Trophy after losing 4-0 against arch-rivals India in Chennai, India, on Wednesday.
This was the first time Pakistan failed to finish in the top four since the introduction of the Asian Champions Trophy.
Pakistan, Japan and Korea all had the same number of points but the latter teams made their way to the semi-finals due to better goal difference.
Pakistan started the game positively with great intensity but Indian skipper Harmanpreet Singh scored just before the end of the first quarter, giving his team an upper hand.
India started to dominate the game by the start of the second quarter and soon doubled their lead with another goal by the Indian skipper from a penalty corner.
India's fantastic display continued and just within the six minutes in the third quarter, Jugraj Singh scored one more for the home side and tripled his team's lead.
India finished the game 4-0 with Akashdeep Singh adding one more to India's goal tally.
The last time Pakistan won against India in hockey was back in the 2016 South Asia games, since then, they are on a 16-match winless streak.
The Green Shirts only managed to win one out of five games in the tournament. Their first game of the event ended with a 3-1 defeat against Malaysia. After that, they drew two consecutive games against Korea and Japan.
Pakistan's first and only win in the tournament came against China, who finished last on the points table with only one point.
Pakistan will now play China for the fifth and sixth place playoff on August 11.
Malaysia will take on Korea in the first semi-final on August 11, while India will face Japan in the second semi-final on the same day.
Pakistan squad
Muhammad Umar Bhatta (c), Akmal Hussain, Abdullah Ishtiaq Khan, Muhammad Abdullah, Muhammad Sufyan Khan, Ehtsham Aslam, Osama Bashir, Aqeel Ahmed, Arshad Liaquat, Muhammad Imad, Abdul Hanan Shahid, Zakaria Hayat, Rana Abdul Waheed Ashraf (Vice Captain), Roman, Muhammad Murtaza Yaqoob, Muhammad Shahzaib Khan, Afraz, Abdul Rahman, while the standby includes Ali Raza, Muhammad Baqir, Muhammad Nadeem Khan, Abdul Wahab, Waqar Ali, Muhammad Arsalan and Abdul Qayyum