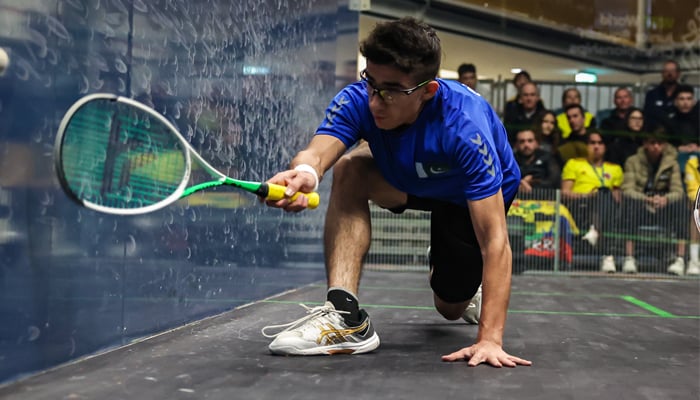 Pakistan's Hamza Khan reached the quarter-finals of the World Junior Squash Championship on Thursday in Melbourne.

Hamza made it to the quarter-finals after defeating Colombia's Santamaria 3-2 in a close contest in the pre-quarter-final.
Earlier in the round of 16, Hamza beat Netherlands' Samuel Grates by 12-10, 11-6, 11-3 and 11-7 on Wednesday (July 19).
On the other hand, Pakistan's Huzaifa Khan lost to USA's Rishi Srivastava and was eliminated from the final race.
A nail-biting contest between Huzaifa and Rishi lasted for five sets. Even though the American won the first two sets 11-9 and 11-8 and all looked over for the Pakistani but Huzaifa fought back and won two successive sets 11-8 and 11-8 by playing valiantly.
However, in the final set, Rishi overcame Huzaifa by 11-9 and qualified for the pre-quarter-final.
Three Pakistani players, Hamza Khan, Moeen-ud-din and Huzaifa Ibrahim Khan, were sent to participate in the championship.
It must be noted that Hamza was the semi-finalist in the last year's edition of World Juniors where he lost to England's Finnlay Withington while Huzaifa is the former Asian number one in the junior category.
Atique ur Rehman is a senior reporter for Geo News.