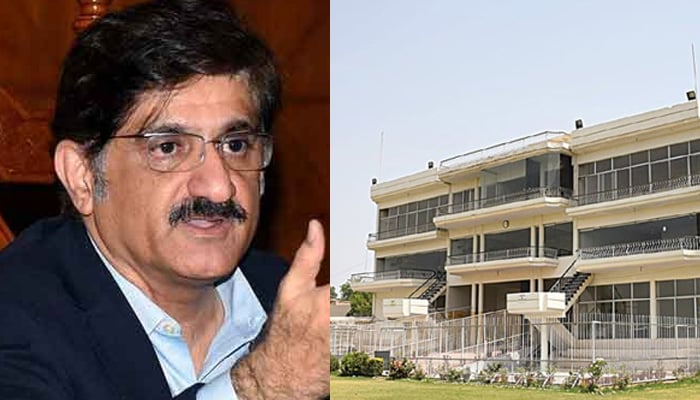 Sindh's chief minister Syed Murad Ali Shah met Pakistan Cricket Board (PCB)'s newly appointed Management Committee (MC) members in Karachi today. 
Zaheer Abbas, Kalimullah Khan, and Khurram Karim Somroo, who are part of the Zaka Ashraf-led MC, were welcomed by CM to discuss cricket matters. 
CM Sindh congratulated the nominated members of the MC and asked them to promote Sindh in the cricket setup. 
Shah urged MC members to plan the Pakistan Super League (PSL) matches for Hyderabad's Niaz Cricket Stadium. 
"Some PSL matches next year should be held at Niaz Stadium. We are ready to collaborate with PCB to develop the stadium," he told MC members. 
"Players from Sindh should also get equal opportunities. We want to find more talent in the province with the help of PCB," he added. 
Under the supervision of Sindh government, the province's first-ever franchise cricket league will be played later this year. Sindh Premier League (SPL) is scheduled to start on September 19 in Karachi. 
CM Sindh wants PCB to give affiliation to SPL for its better future. 
SPL is a one-of-its-kind tournament that aims to unearth raw talent in the province. Renowned cricketers like Shahid Afridi, Abdul Razzaq, Shoaib Malik, and Misbah-ul-Haq are part of this tournament.
SPL will feature six teams out of which three - Karachi Ghazis, Hyderabad Bahadurs and Benazirabad Lals - have already been sold out.
Afridi and Razzaq are associated with Benazirabad Lals whereas Hyderabad Bahadurs will have the services of Malik and Misbah. Afridi is also the brand ambassador of the league. 

Atique ur Rehman is a senior reporter for Geo News.