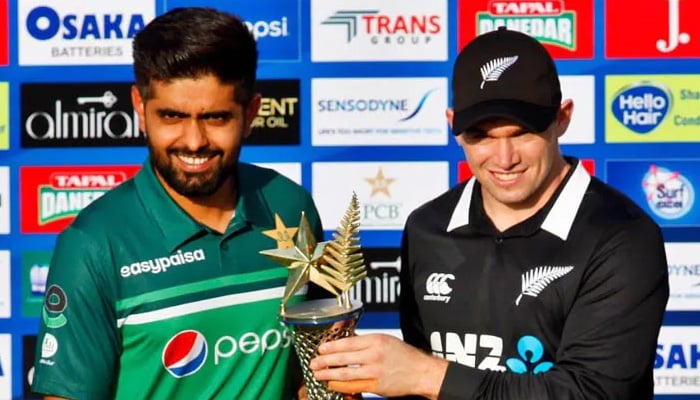 The Pakistan Cricket Board (PCB) announced on Tuesday that the Men in Green will play 10 additional T20Is against New Zealand in the 2023-24 season ahead of the ICC Men's T20 World Cup next year.
After playing three ICC World Test Championship matches in Australia in December-January, Pakistan will travel to New Zealand for five T20Is. 
Schedule 
12 Jan – 1st T20I, Auckland
14 Jan – 2nd T20I, Hamilton
17 Jan – 3rd T20I, Dunedin
19 Jan – 4th T20I, Christchurch
21 Jan – 5th T20I, Christchurch
Meanwhile, New Zealand cricket team will tour Pakistan in April 2024 for five T20Is as well. The PCB added that the details of the series will be released closer to date. 
"The additional series will mean in the lead up to the T20 World Cup, to be co-hosted by the West Indies and the USA in June 2024, Pakistan will play 19 T20Is (10 vs New Zealand, three vs the Netherlands, two vs Ireland and four vs England). In addition to the 19 international matches, the PCB will also host its own cut-throat Pakistan Super League 2024 in February/March 2024," the PCB said in a press release. 
"To schedule the additional T20Is, the Pakistan Cricket Board, in consultation with Cricket West Indies and New Zealand Cricket, has made slight changes to its Future Tours Programme 2023-2025.
"The two ICC World Test Championship fixtures against the West Indies, originally planned in Pakistan in February 2024, will now be held in January 2025. Likewise, Pakistan's tour to New Zealand for three ODIs and five T20Is, originally scheduled in January 2025, will now take place in April 2025.
"Pakistan and New Zealand recently played a highly-competitive and entertaining five-match T20I series in April/May in Lahore and Rawalpindi, which ended in a two-all draw. Prior to the ICC Men's T20 World Cup 2022 in Australia, Pakistan had featured and won the T20I series in Christchurch with Bangladesh as the third side.
"New Zealand and Pakistan are ranked third and fourth, respectively in the ICC T20I Team Rankings with just two points separating them."