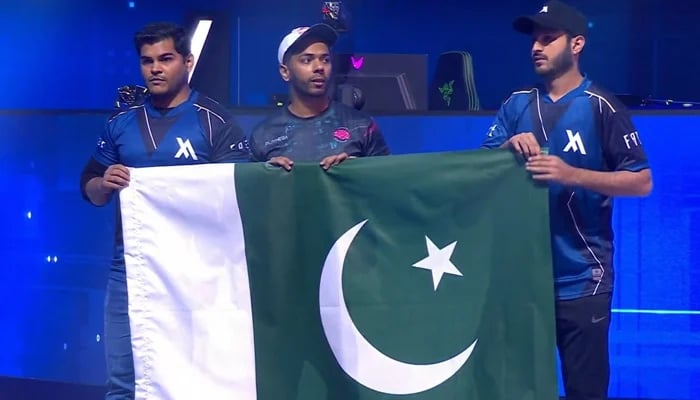 Esports star Arslan Ash shared an emotional message on Friday, where he shed light on the difficulties faced by gamers in Pakistan.
Pakistan team, comprised of Ash, Khan Imran and Atif Butt, defeated South Korea 3-2 in the grand final to win Gamers8 Tekken 7 Nations Cup in Saudi Arabia on Sunday.
Ash opened up about the taboos associated with gaming in Pakistan and the difficulties faced by the players in terms of travelling to other countries for international tournaments.
"For all the people who fail to comprehend why it is so important for us to constantly reiterate that Pakistan is the Best Tekken Region in the World, please understand where we come from. As a nation we are deprived of a gaming infrastructure, there are actual taboos associated with the field of gaming; sure it's a cultural thing, but we don't exactly have a very supportive environment that is beneficial to adopt gaming as a full-time career," Ash tweeted.
"Our passport is one of the weakest in the world, so that means that we can't just travel wherever and whenever we want to. Yes, I understand that that probably sounds alien to some of you, but in order to make a simple travel to the US for a week, we have to start getting our documents and financials sorted six months in advance. I, for one, never even imagined that we'd be able to travel as a full contingent to a different country and have a shot at beating some of the best players in the world.
"There's load-shedding — for those of you who don't understand what that means: it's power outages in order to save electricity for multiple random hours of the day, so we had to wait outside arcades for the electricity to return so we'd be able to continue gaming."
He also rued lack of government support for esports players in Pakistan.
"Due to the lack of monetary support, in my case, and many others, we'd play money matches in order to be able to pay the bills for the coins we'd consumed in the arcade. There's a lack of government support, so even with all the talent in the world, we don't have anyone pushing individuals to take that leap of faith to enter the global arena," he said.
He also reiterated that Pakistan is the best Tekken region in the world at the moment.
"Alhamdulillah, having said all of that there's a major positive, Pakistan as a country is strongest when it's cornered, and when everything seemed to be going against us, we came out on top, we persevered, and won. A tournament that was not 1v1, it was a team game, I fought, my team fought, and we all conquered the world. After everything we've been through, if we can still present the world with a three-time Evo Champion, an Evo Runner Up and a TWT Champion, the least the world can do is cut us some slack when we say that 'Pakistan is the Best Tekken Region in the World'," he concluded.