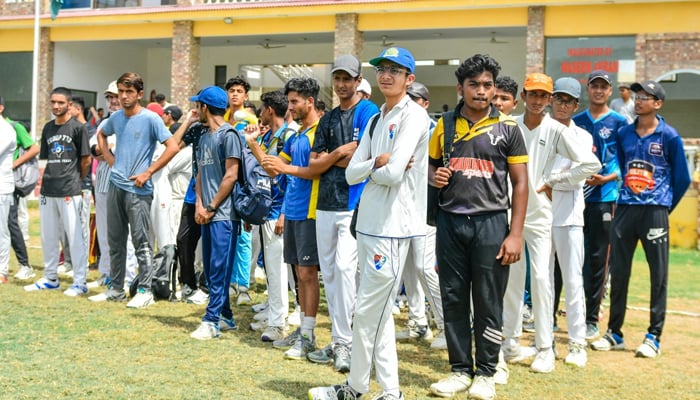 The Nelson Mandela Talent Hunt Programme has come to an end after the final round of trials were held on Sunday (June 2)at Asghar Ali Shah Cricket Stadium in Karachi, where more than 180 shortlisted players showed up for further evaluation of their skills by the selectors which included Shadab Kabir, Tahir Khan, and Mohtashim.
A first-of-its-kind talent hunt programme providing equal opportunities to underprivileged children of Karachi was devised by Majeed Bashir Ahmed, Chairman of Bristol Engineering and Honorary Council of South Africa in Karachi.
The programme was strongly supported by the South African High Commission in Pakistan. The idea developed by Majid is shaping up well as 60 selected players were announced today after two-phase trials.
Champions Trophy 2017 winning captain Sarfaraz Ahmed and batter Fawad Alam are part of the programme as mentors. Sarfaraz was announced as the ambassador of the programme in May.
Both interacted with the kids, shared their words of wisdom and praised the upcoming stars and the initiative.
The former Pakistan captain appreciated the programme saying that the selection panel is experienced.
"We have an experienced selection panel and they have done a great job. I have been through this phase and I know the challenges very well, so with my experience, I will try to give the best performance to the players and give them some valuable advice," he said.
The Test cricketer Fawad Alam also stated that Karachi is full of talent and that such initiatives can help youngsters.
"This is a great initiative and there is a lot of talent in Karachi. I am happy to see that this initiative is being taken to give the local talent of Karachi an opportunity to shine at the biggest level," he added.
Four teams will be formed from the shortlisted 60 players who will compete in the matches leading to the selection of the final 16. The final selected players will then travel to South Africa for better training and get the international exposure they need to hone their skills.