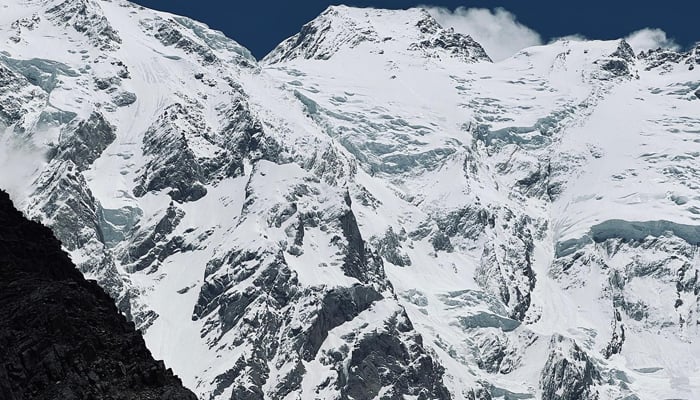 Pakistan's mountaineer Asif Bhatti is reportedly stranded at Nanga Parbat with snow blindness.
According to the Alpine Club of Pakistan, Bhatti is stuck at C4, which is an altitude between 7,500m and 8,000m, on the ninth-highest mountain in the world.
"Asif Bhatti, a Pakistani climber, is stuck at C4 with snow blindness at altitude 7,500m – 8,000m at Nanga Parbat 8,126m. He needs help," said Karrar Haidri, who is the secretary of Alpine Club of Pakistan. 
A group of climbers from the Karakorum expedition in Shimshal are preparing for a rescue mission to help him. They are currently waiting for helicopters to transport them to the higher camps.

The 8,126-metre peak is considered dangerous due to its high fatality rate. The mountain has a daunting ascent along with the risk of unstable glaciers, avalanches and storms.
Before its first ascent in 1953, 31 people died attempting to climb the peak which is why it was nicknamed "the Killer Mountain."
The mountain is also called "the western anchor of the Himalayas." It has a 22.3% death ratio, making it the third most dangerous mountain peak in the world.
Earlier, renowned mountaineers Naila Kiani and Samina Baig Sunday became the first Pakistani women to scale Nanga Parbat. 
Meanwhile, Sajid Sadpara successfully climbed Nanga Parbat without the help of supplementary oxygen and sherpas, local helpers, towards the end of last month. 
Before summitting Nanga Parbat, Sajid had also scaled the six highest peaks without artificial oxygen.
It must be noted that Sajid, son of the legendary mountaineer Ali Sadpara, aims to climb all 14 eight-thousanders without the aid of supplemental oxygen.

Faizan Lakhani is Deputy Editor (Sports) at Geo News.