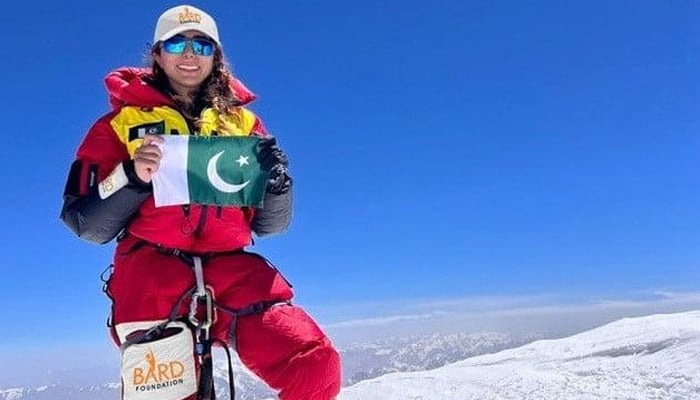 Renowned climber Naila Kiani became the first Pakistani woman to scale Nanga Parbat on Sunday.
The 8,126-metre peak is known as the 'Killer Mountain' due to its high fatality rate. The mountain has a daunting ascent along with the risk of unstable glaciers, avalanches and storms.
Kiani's summit was confirmed by Secretary Alpine Club of Pakistan Karrar Haidri.
"Today on July 2, 2023, at 10:18 a.m, Naila Kiani scaled the majestic Nanga Parbat, standing tall at an inspirational height of 8,126 metres," Haidri said.
"She did this to become the first Pakistani woman to climb Nanga Parbat. Naila has now ascended seven of the enormous 8,000-metre peaks on the planet, establishing her as one of the most talented climbers of our time.
"The legendary Everest, the difficult K2, the commanding Lhotse, the perilous Annapurna, the elusive G1 and the G2 are just a few of the mountains she has conquered before.
"Numerous mountaineers and adventure fans all over the world are inspired by Naila Kiani's unwavering resolve, unmatched abilities, and unwavering attitude. She serves as a bright example of how people can overcome seemingly insurmountable obstacles."
Earlier, Sajid Sadpara, who is a noted Pakistani mountaineer, successfully climbed Nanga Parbat without the help of supplementary oxygen and sherpas.
It must be noted that Sajid, son of the legendary mountaineer Ali Sadpara, aims to climb all 14 eight-thousanders without the aid of supplemental oxygen. He has already summited K2 (8,611m), Gasherbrum-I (8,080m), and Gasherbrum-II (8,035m) in Pakistan, as well as Manaslu (8,163m) in Nepal, without supplemental oxygen.
Sajid has also achieved the unique feat of climbing the world's highest peak Mount Everest without the support of supplementary oxygen and assistance from Sherpas in May 2023.