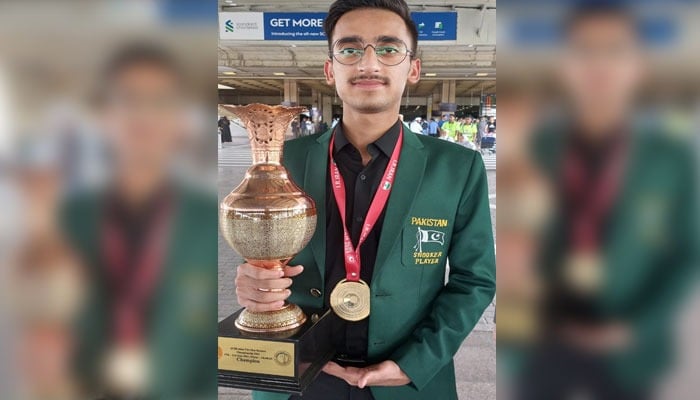 Pakistan's Ahsan Ramzan arrived in Karachi on Monday after winning the Asian Under-21 Snooker Championship in Iran.
However, despite the impressive achievement, no one came to welcome the Pakistani cueist at the airport.
"I'm not disappointed about the fact that no one came to welcome me at the airport. I have a medal around my neck and a trophy in hands, which is enough for me," said Ramzan.
He also stressed the importance of foreign coaching for Pakistan's cueists.
"I firmly believe that a player gets rewarded for their hard work. Pakistan is perhaps the only team in the world which wins medals without help from coaches," he said.
"I hope we hire a foreign coach for our cueists. If that is not possible, we should be sent abroad for training," he added.
The 17-year-old also said that he will continue on the amateur circuit for the foreseeable future and currently has "no plans about playing on the professional arena".
Ramzan won the Asian Under-21 Snooker Championship on Wednesday in Tehran. Ahsan defeated Iran's Malad Pourali by five-two in the final.
The young Pakistani cueist looked favourite from the start as he took the lead of 4-0 by winning the first four frames convincingly.
Despite a very strong comeback by the Irani as he won the fifth and sixth frames, Ramzan did not lose his grip on the game and finished the game by winning the seventh frame and claiming the title.
He won the match with frame scores of 48-46, 70-5, 61-6, 62-29, 30-71, 55-67, 101-27.
It must be noted that before Ahsan, three Pakistanis - Farhan Mirza, Majid Ali, and Haris Tahir - on four occasions played in the final of the Asian U21 championship, but none could win the title.
Atique ur Rehman is a senior reporter for Geo News.