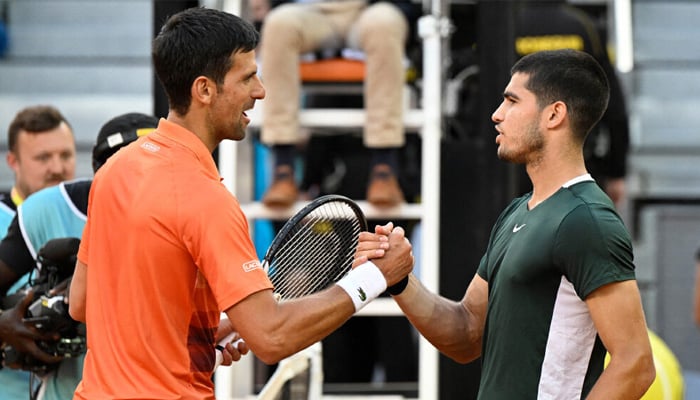 Serbian tennis star Novak Djokovic had some high praise for Spanish youngster Carlos Alcaraz saying that he is a very complete player at age 20.

The 36-year-old also said that he will be a worthy opponent in the semi-final of the ongoing French Open which will be played on Friday (June 9).
"He deserves his success, no doubt. He's working hard, and he's a very complete player already. If you want to be the best, you have to beat the best. He's definitely a guy to beat here. I'm looking forward to that," Djokovic said.
The Serb also stated that the 20-year-old reminds him of Nadal, who plays with the left hand and is also a Spaniard.
"He carries himself very well. No doubt very nice guy on and off the court," Djokovic said. "He brings a lot of intensity on the court. Reminds me of someone from his country that plays with a left hand!" he added.
Djokovic and Alcaraz met only for one time in Madrid last year, when the young Spaniard announced himself as the future of tennis by beating Nadal and Djokovic back to back.
"So we played only once in Madrid last year, 7-6 in the third for him. Most of the tournaments this year we were not in the same draw but here we are. That's the match that a lot of people want to see. It's definitely the biggest challenge for me so far in the tournament," the 36-year-old said.
Djokovic can claim the number one position back by winning the title and by doing so, he would also end up creating a record for the most Grand Slam wins (23) in history.
The Serb believed that he will have the mental edge in the semi-final.
"Sometimes it works; sometimes it doesn't. I think I was lucky that throughout my career I have a very good and positive score in the tie-breaks. My opponents know that, and I know that. So I think mentally that serves me well. Coming into every next tie-break, I know I maybe have that mental edge, so I try to use it," he concluded.