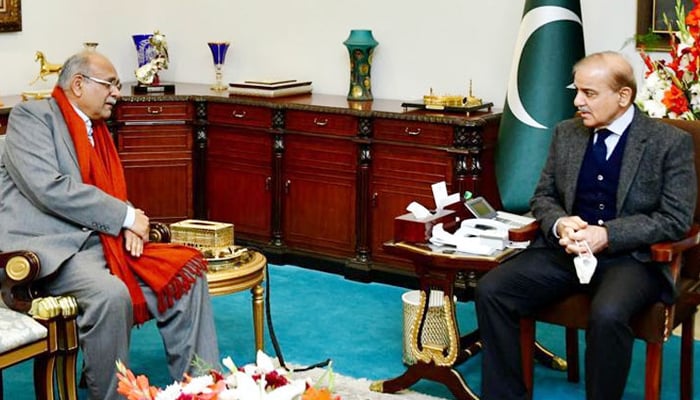 ISLAMABAD: Prime Minister Shehbaz Sharif has finalised two names for the elections of Pakistan Cricket Board (PCB) chairman. 
According to sources, PM Shehbaz, who is also the patron-in-chief of PCB, expressed satisfaction over the work of Management Committee (MC) chairman Najam Sethi in a meeting with him today. 
The patron directed Sethi to hold the PCB chairman's elections as soon as possible. Sources said that the Premier has nominated Sethi for the chairmanship. Mustafa Ramday [Advocate Supreme Court of Pakistan and also a member of MC] is most likely to be the second nomination for the elite post. 
Sethi alongside a 13-member MC was appointed in December last year to enforce 2014 constitution in the cricket board. Imran Khan-led government revoked 2014 constitution to enforce Australia-like cricket structure in the country. 

As a result, many cricketers and officials lost their jobs following the closure of departments. 
Soon after Khan's government was removed last year, a change in PCB's higher office was expected. Then-chairman Ramiz Raja was sacked and Sethi, who previously served as PCB chairman twice, took charge as the head of cricket in the country once again. 
Initially, 120 days were given to change the constitution and elect a new chairman but later on, a four-week extension was granted to PCB MC. 
In the meeting with PM Shehbaz, Sethi assured that the 2014 constitution is functional now and the chairman's election will be held soon. 
"Elections in more than 90 percent of districts have been completed. Elections in regions are also almost completed. Regional tournaments are about to start," Sethi briefed the patron. 
Meanwhile, Sethi also briefed the PM on the ongoing Asia Cup deadlock. He asked for government's advise on the matter.
It must be noted that the Board of Control for Cricket in India (BCCI) has refused to send their team to Pakistan for the Asia Cup and is keen on ensuring that the event is held at a neutral venue. However, the PCB is not interested in hosting the event outside Pakistan since it would affect its efforts with regards to the return of international cricket in the country.

The BCCI is also unlikely to accept the PCB-proposed hybrid model, which includes four matches of the group stage in Pakistan with the remainder of the tournament taking place at a neutral venue.
Sri Lanka, Bangladesh, and Afghanistan have also stated it is not logistically or financially feasible to hold the Asia Cup in two countries.