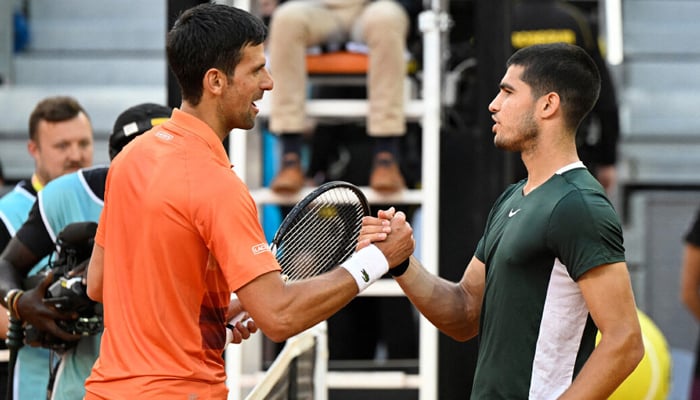 World number one Carlos Alcaraz will face third seed Novak Djokovic in a mouth-watering French Open semi-final on Friday after defeating Stefanos Tsitsipas of Greece 6-2 6-1 7-6(5) on Tuesday.
Alcaraz played scintillating tennis for almost three sets but was forced to play a tiebreak in the third set by his opponent.
The 20-year-old, who won the US Open crown last year, and will look to stop Djokovic from winning a record-breaking 23rd men's singles major.
"This match is what everyone wanted to watch and it is going to be a really good match to play and to watch," Alcaraz said.
"If you want to be the best you have to beat the best and he [Djokovic] is one of the best players in the world."
Despite dominating the entire match, Alcaraz squandered three match points after taking a 5-1 lead in the third set.
"Of course I lost my focus a little bit [in the third set]. I was in trouble but am happy to overcome that problem and still be focused, playing a great level. But it was pretty tough at the end of the match," Alcaraz said.
"Believing in myself all the time, that's the most important thing," he said. "I always think that I am going to play these kinds of matches at this level. The key is to enjoy. That's the key," he said with his trademark beaming smile.
Tsitsipas blamed sleeping pills, pre-match naps and late matches for the defeat.
"One thing that I'm going to try to avoid in the future is have melatonin pills and naps before matches because it clearly doesn't seem to be working," a visibly disappointed Tsitsipas said.
"I don't think he played any crazy tennis. I allowed it to happen. I don't think he played his best match. He played great. I mean, I don't think he played exceptional, but he played great."
"He played tennis with few errors and that was enough to beat me."