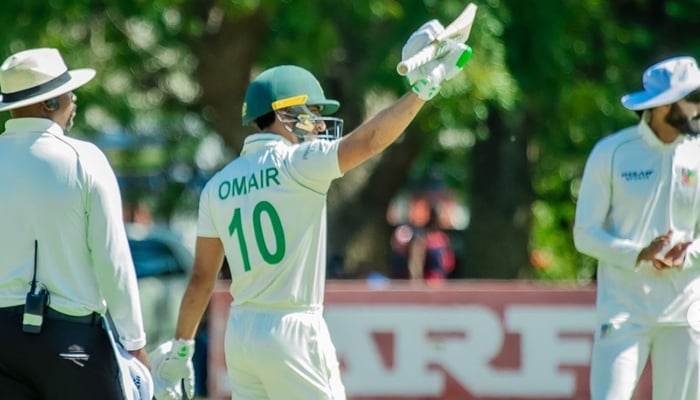 Pakistan's rookie batter Omair Bin Yousuf has stated that he wants to emulate his role models Babar Azam and Shoaib Malik.
Omair highlighted Azam's ability to play the pacers while also speaking about Malik's dominance over spinners.
"I hold both players in high regard as Shoaib Malik and Babar Azam are great players. They have dominated bowlers around the world and Babar Azam continues to do that even today," Omair told PakPassion.
"In fact, Babar Azam is in the top 5 in all rankings which is a great achievement. What I love about Babar is the way he stays on the wicket to score big and converts his fifties to hundreds which is exactly what I would like to do in my career. Babar's ability to play fast-bowlers with ease and the brilliant way in which Shoaib uses his feet to play spinners are qualities that I admire and want to emulate as well," he added.
Omair recently toured Zimbabwe with the Pakistan Shaheens, where he scored his maiden first-class double-hundred.
"It was a great honour to be part of the Shaheen's tour as when they happen, they are a great chance for domestic players like me to take these opportunities and showcase our skills," he said.
"We were playing a near international side in the one-day games, so the opportunity to gain experience was a huge one for all of us. The level of competition in the six one-day games was brilliant as we were confronted with almost their international side. On top of that the games were broadcast live which made them extra special because you know that the world is watching your performances. I for one enjoyed the games immensely and had some excellent performances to show for my efforts as well including scores of 65, 153 and 89* and of course the one that I enjoyed the most, 250*, in the four-day game," he added.
The Karachi-born also featured for Quetta Gladiators in the Pakistan Super League (PSL) season eight earlier this year.