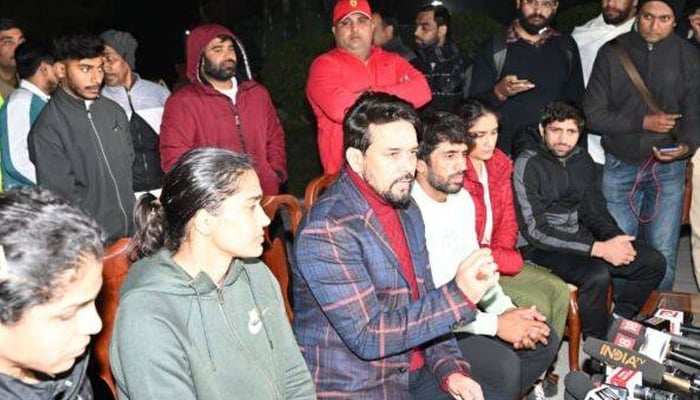 The central government is willing to have a discussion with the protesting wrestlers, according to Minister of Youth Affairs and Sports of India Anurag Thakur.
India's top wrestlers are protesting against the Wrestling Federation of India (WFI) President Brij Bhushan Sharan Singh over sexual harassment allegations.
The athletes have been protesting in New Delhi since April 23 against Singh for sexually harassing female athletes.
"The government is willing to have a discussion with the wrestlers on their issues. I have once again invited the wrestlers for the same," Thakur tweeted on Wednesday.
Four days back, Union Home Minister Amit Shah also met a delegation of protesting wrestlers, which included Olympic medalists Bajrang Punia and Sakshi Malik, at his official residence in New Delhi.
Earlier, India's top wrestlers had decided against tossing their medals into the river Ganges after a prominent farmers' leader, Naresh Tikait, convinced them to call off the act promising a solution within a few days.
The wrestlers were also detained by Delhi Police after they tried to stage a protest near India's new parliament building.
Additionally, the United World Wrestling issued a statement on Tuesday, May 30, condemning the detention of the wrestlers and criticising the "lack of results" in the investigations against Singh.
Wrestling's governing body reminded the Indian Olympic Association (IOA) of its promise, made in April, to hold fresh elections for the WFI within 45 days.
"Failing to do so may lead UWW to suspend the federation, thereby forcing the athletes to compete under a neutral flag," it warned.
The UWW would hold a meeting with the wrestlers to inquire about their condition and safety, it added.