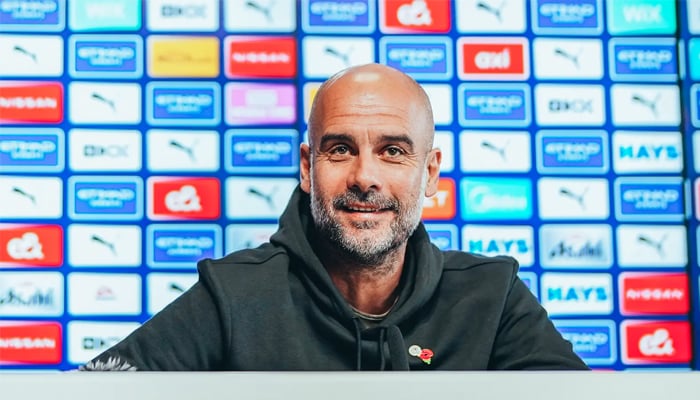 Manchester City head coach Pep Guardiola has stated that he is optimistic about of the UEFA Champions League (UCL) final against Inter Milan, which will take place on June 10 at the Ataturk Olympic Stadium, Istanbul.

City reached the CL final after beating RB Leipzig, Bayern Munich and Real Madrid in the knockout stages of the tournament. They defeated Leipzig by the aggregate score of 8-1, with a 7-0 victory at home.
They also outclassed Bayern at The Etihad stadium as the hosts registered a comfortable victory by three goals. The Los Blancos were also handed out a humiliation of 4-0 in the semi-final.
"I'm so optimistic [for the UCL Final], but I cannot deny the quality of the opponents," Guardiola said.
Pep also spoke about the right-back Kyle Walker's fitness as the final approaches.
"He had a disturbance in his back. Yesterday, he was not good. Today, he was a little bit better. We didn't want to take a risk and we will see in the next days."
The Spaniard talked about some players who were not present in City's previous CL final while also being sure about what his team will have to do in order to win the final.
"I can't speak for the players; some were there, some weren't - it's a different situation. Two years ago isn't long and of course, we want to finish differently, but we have to know exactly what we have to do," he added.
The former Barcelona manager remembered City's last UCL final against Chelsea in 2021 which they lost 1-0.
"In that time we played the final, we had an incredible season in the league. It's not a massive difference (to this season). I have the opinion that if you get to the final and you're lucky, you can win it. The important thing is to be there," the 52-year-old said.
It must be noted that City have already won the Premier League (PL) with 88 points and FA Cup after defeating city-rivals Manchester United with the help of two goals by Ilkay Gundogan at Wembley Stadium.