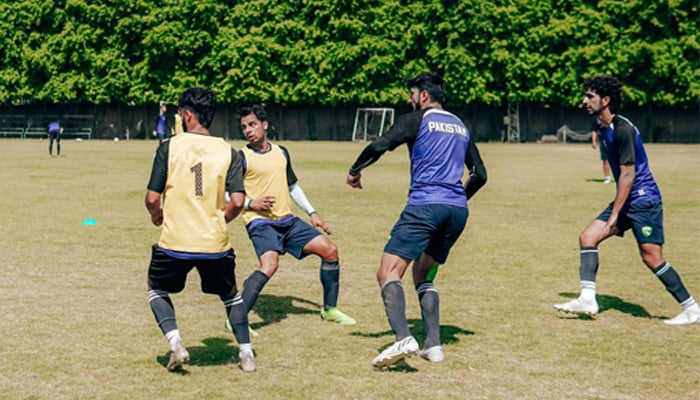 The Pakistan Football Federation (PFF) have finally received a No Objection Certificate (NOC) to participate in the upcoming four-nation tournament in Mauritius.

The update was shared by the Head of Prime Minister of Pakistan's Strategic Reforms, Salman Sufi, on his official Twitter account.
"Have spoken to the secretary IPC and have been informed that Mauritius NOC has been approved," Salman wrote in a tweet.
PFF also welcomed this news but they are waiting for an official confirmation before finalising their travelling plans.
"Congratulations to the whole football family. Special thanks to @mo_ipc and @SportsBoardPak. Would love it if you can send us an official confirmation so that we can make travel plans accordingly," PFF tweeted.
However, the PFF is yet to receive the NOC from the Pakistan Sports Board (PSB) for the South Asian Football Federation (SAFF) tournament which will take place in India, later this month.
However, the Special Advisor to Prime Minister Youth Affairs Shaza Fatima Khawaja took to Twitter to confirm that she has contacted all the relevant authorities to make sure that PFF gets the NOC.
"Been in touch with all relevant ministries. Initially there was a documentation issue that caused delay after which Ministry of IPC and other relevant ministries have issued the NOC," she said in a tweet.
Earlier, on Saturday, the PFF urged the PSB to issue NOC for the national men's team's tour of Mauritius and India by releasing a video where the players requested PSB and the foreign office to expedite the process of issuing the NOCs.
On the other hand, the PSB claimed, in a tweet on its official Twitter account, that the PFF didn't submit the required documents on time for the NOC.
According to sources, the Pakistan team has to depart for Mauritius on June 8.
Schedule:
Four-nation Cup
June 11 Pakistan vs Mauritius
June 14 Pakistan vs Kenya
June 17 Pakistan vs Djibouti
SAFF Championship
June 21 Pakistan vs India
June 24 Pakistan vs Kuwait
June 27 Pakistan vs Nepal