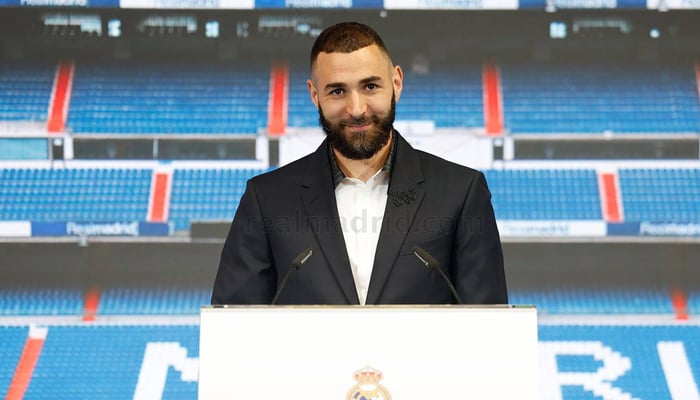 Ballon d'Or winner Karim Benzema said goodbye to Real Madrid on Tuesday (June 6) as he is headed towards Saudi club Al-Ittihad for his big-money transfer.

Benzema, 35, bid an emotional farewell after spending 14 legendary years at the Spanish Club. He also won 25 titles in the duration which is joint-most with Madrid's legendary left-back Marcelo.
"It's a bit of a sad day because I'm leaving my club," Benzema told a press conference. "I signed for Madrid and I wanted to retire here, but it didn't happen that way. I will always be a Madrid fan. Thanks also to the fans who always gave me this strength," Karim said in his farewell.

The Frenchman also said that he will always remain a Madridista as whatever he is today, is because of the club.
"I'm who I am because of this club, thank you very much. I will always watch Real Madrid games and support the team," he said.
Benzema's teammates Luka Modric, Thibaut Courtois, Nacho Fernandez and Lucas Vazquez were also present at the striker's farewell.
Real Madrid's president Florentino Perez also addressed the Frenchman's farewell where he thanked the striker for his services.
"Dear Karim, you arrived 14 years ago and you've become one of the best players ever," Perez said. "Karim, you made us emotional during all these years. You're an example for everyone. You are a leader. The whole world loves you. All the fans will always be with you."
Perez continued his speech saying that Benzema gave Madrid La Decimocuarta (14th UCL title) with spectacular comebacks in the Champions League last season.
"You gave us La Decimocuarta. You've been the leader. No one will ever forget the comebacks of last season. You are the current Ballon D'Or," Madrid's president said. "Karim, you are one of the greatest. Here you can see all the trophies you've won with us. 25 titles. No one has won more. You've been spectacular."
Benzema played his last game for The Whites on Sunday (June 4) where he scored from penalty spot in a 1-1 draw against Athletic Bilbao at the Santiago Bernabeu.