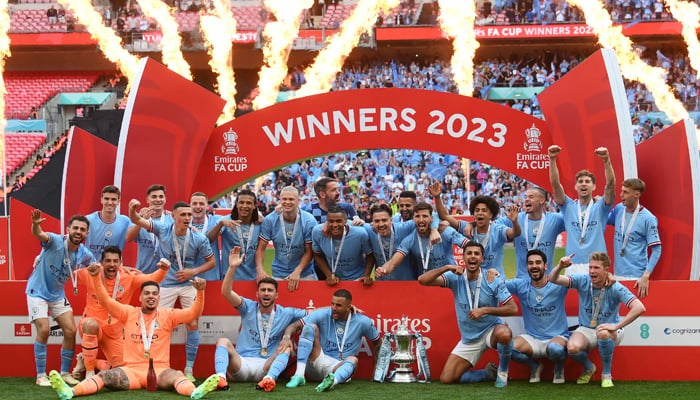 Opta Power Rankings revealed the list of the best football teams in the world on Monday (June 5).
The rankings don't just look across the top European leagues in England, France, Germany, Spain, Italy, Netherlands and Portugal. They are updated daily and rank teams from 183 different FIFA member countries and 413 unique domestic leagues, providing a truly global rating system in men's football.
Manchester City is ranked No. 1 with a 100 rating which comes as no surprise as they have just recently won the Premier League (PL) and FA Cup. They will also be playing the UEFA Champions League (UCL) final on June 10.
Bayern Munich is ranked No. 2 on the list with a 96.3 rating as they clinched the Bundesliga last week with the help of a late-winner by Jamal Musiala against Koln on May 27.
Inter Milan is ranked No. 3 as they finished third in Serie A with 72 points while also winning the Copa Italia against Fiorentina on May 25. They are also in the UCL final which will take place at the Ataturk Olympic Stadium, Istanbul.
Liverpool and Napoli are ranked fourth and fifth respectively with 94.2 ratings each. Napoli won the Serie A title this season as they finished the season with 90 points.
Real Madrid is ranked No. 6 with a 93.6 rating as they won the Copa del Rey title, while also reaching the UCL semi-final and finishing second in the league with 78 points.
RB Leipzig, Arsenal, Manchester United and Borussia Dortmund are the remaining teams in the top 10.
Surprisingly, FC Barcelona is ranked No. 11 with a 92.1 rating despite winning the league title with 88 points in 38 games. They also reached the CDR semi-final where they were knocked out by arch-rivals Real Madrid as they lost 4-0 at Spotify Camp Nou. They were also knocked out of the Europa League by Manchester United.
Meanwhile, Paris Saint Germain (PSG) is ranked No. 15 with 90.6 rating as they won the Ligue 1 title. They were also knocked out of the UCL R16.