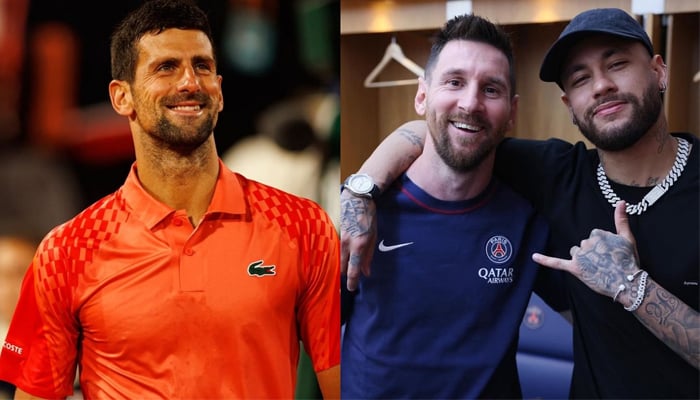 Serbian tennis star Novak Djokovic opened up about his meeting with Lionel Messi and Neymar Junior as he attended Paris Saint Germain's (PSG) last game of the season against Clermont Foot at Parc des Princes on Saturday (June 3).

The 36-year-old along with his children had the pleasure of meeting with two football icons.
"It was my first time meeting them in person – they are great champions," Djokovic was quoted as saying by Tennis Majors.
"It was a pleasure and an honour to meet them, especially Messi, a player who left an extraordinary mark in the history of football."
Although PSG lost the game 3-2, they had already won the title so they had plenty of reasons to celebrate. Djokovic also talked about how the expectations are always high from icons like them.
"They did win the title already, but the expectations are always huge from stars like them," he said. "That's why I didn't want to disturb them and to enter their space while they were preparing, but they saw me on their way to the locker room [before the game] and they came to say 'hi.' It was my first time meeting them in person – they are great champions."
Serb's five-year-old Tara was particularly eager to meet Brazilian legend Neymar and her father explained why.
"Neymar signed Tara's jersey, but it's an interesting story," the tennis great said.
"She doesn't follow sports much, but she has a school friend who is half Brazilian-half Serbian – that girl dances all the time to this song about Neymar. That's why she wanted to meet him badly," Djokovic added.
The 36-year-old defeated Juan Pablo Varillas in the fourth round of the Roland Garros to secure his place in the quarter-finals where he will play against the Russian star Karen Khachanov, who is currently world number 11 on Tuesday (June 6).
The world's No. 1 Carlos Alcaraz awaits the Serbian should he overcome the Russian.
It would be only the second career meeting between Djokovic and Alcaraz after the Spaniard won their first in Madrid last year.