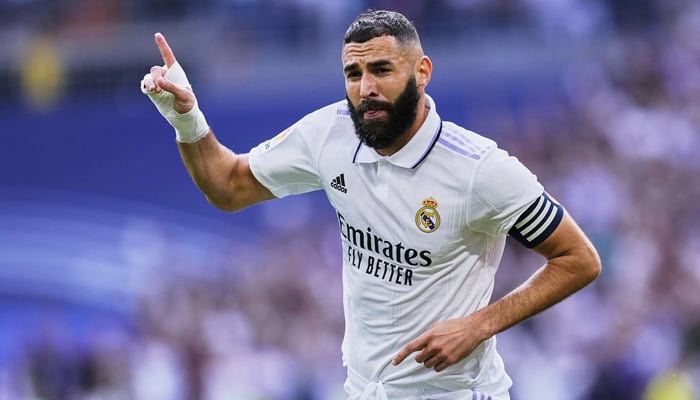 Real Madrid announced Sunday that star striker Karim Benzema has left the club. 

The Frenchman had joined the club in 2009 and scored 353 goals, along with 165 assists, in 647 games for the Los Blancos.
"Real Madrid C. F. and our captain Karim Benzema have agreed to end their brilliant and unforgettable stage as a player of our club," the club said in an official statement. 
"Real Madrid wants to show its gratitude and all its affection to the one who is already one of our greatest legends.
"Karim Benzema came to our club in 2009, when he was only 21 years old, and has been a fundamental player in this golden age of our history. During the fourteen seasons in which he has defended our shield and our shirt, he has won 25 titles, a record figure at Real Madrid: 5 European Cups, 5 Club World Cups, 4 European Super Cups, 4 Leagues, 3 King's Cups and 4 Spanish Super Cups."
Benzema is the current UEFA Golden Ball and Player of the Year, while also winning the 2022 Pichichi Trophy. 
"Karim Benzema is the fifth player who has worn our shirt the most times with 647 games, and is the second historical scorer of Real Madrid with 353 goals. He is also Real Madrid's second historical scorer in both the League and the European Cup. And he is also the fourth scorer of the Champions League in the history of this competition and the fourth scorer in the history of the League," the statement added. 
According to reports in Spanish media, Benzema will sign for Saudi Arabian club Al-Ittihad, after leaving Madrid, where he will €400m over two years.

"Karim Benzema's career at Real Madrid has been an example of behavior and professionalism, and has represented the values of our club. Karim Benzema has earned the right to decide his future," the press release added. 
"Real Madrid fans and all the fans of the world have enjoyed his magical and unique football, which has made him one of the great myths of our club and one of the great legends of world football.
"Real Madrid is and will always be his home, and he wishes him and his whole family the best in this new stage of his life."
Real Madrid also announced that on Tuesday, June 6, an institutional act of tribute and farewell to Karim Benzema will take place in Ciudad Real Madrid.