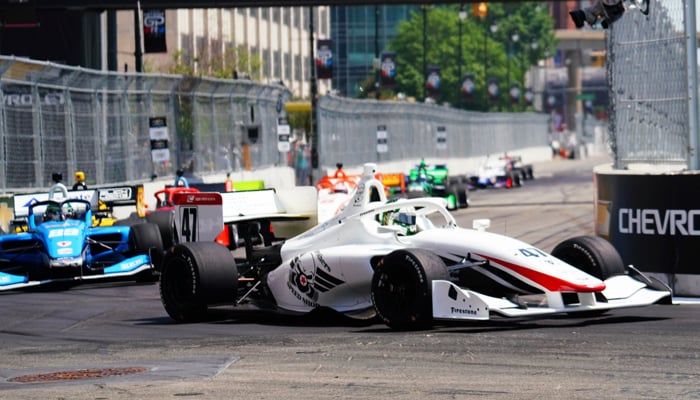 LONDON/DETROIT: British Pakistani sports racer Enaam Ahmed finished in the top five in the Detroit Grand Prix.
The 23-year-old Enaam took part in the fourth round of the 2023 IndyNXT by Firestone in Detroit, which is the auto manufacturing capital of the United States.
A suspension part failure in qualifying forced him to start from outside the top 10 but Enaam made up fast and finished inside top five.
On the opening lap, the car of Louis Foster was spun around by Hunter McElrea and Enaam had to take evasive action to avoid crashing into him while also avoiding the walls. He overtook two cars in one corner moving him up into the top five. His aggressive overtaking wowed the American spectators, who now call him the Pakistani Panther.
This is the second time in a month that Enaam has ended up in the top five places, beating the most talented racing drivers America and the world has to offer.
"The concrete canyon that is the Detroit Street circuit, I had to be careful as there was chaos all around at the start. I still managed to pass seven cars," an excited Enaam said after the race.
This is his second top five finish after he secured fourth position at the Barber Motorsports Park in Alabama. Enaam has now jumped to 8th in the championship standings.
"Championship success is a long game. Both my team and myself are rookies in the series and we are learning from each other. My goal is to be in the top five this year, gain experience on American ovals and style of racing. If the opportunity is there I want to fight for the title this year," Enaam explained.
Enaam's illustrious career, flying under the Pakistani flag, has seen him beat the records of Formula One drivers Lewis Hamilton and Max Verstappen. Not only that, Enaam is also the British Formula 3 Champion, the first ever high-level Formula Championship winner in the history of Pakistan and has surpassed the record of Ayrton Senna by winning 13 races in one season.