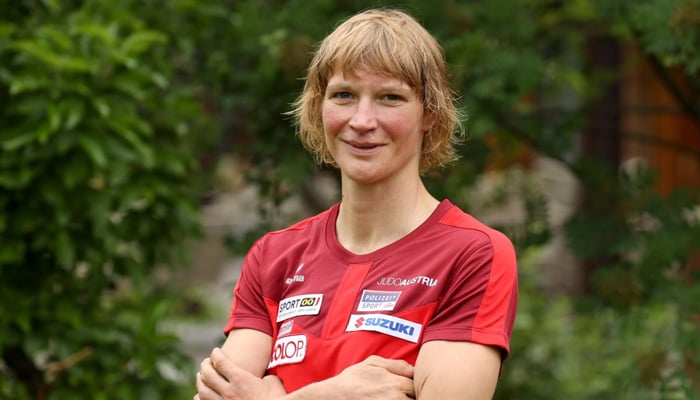 ISLAMABAD: Former European judo champion Sabrina Filzmose has called on Pakistan women athletes to follow martial arts, especially judo, as it would help them not only make a name for themselves and for the country, but also be beneficial for their health.
The four-time Olympian during a press conference Saturday at a local hotel said that now when she had already called it a day from active judo, her efforts have been to face even more demanding challenges.
"I am here to scale K-2 and ride on a bicycle to the base camp of the world's second highest peak via Skardu before starting climbing K-2," she said. 
Flanked by President Pakistan Judo Federation Co (rtd) Junaid Alam, Austrian diplomat Christian Siegl and Kazakhstan Embassy second secretary Olzhas Alipbayev, the former Olympian said she would feel happy to help Pakistan's young athletes make a name for themselves and for the country in the game.
"It is just a matter of starting your efforts to attain perfection in martial arts. You need hard work and consistency and coaching to become a world-level athlete. I would suggest Pakistan women youth to make the best of their talent and opportunities coming their way."
Sabrina Filzmose earlier planned to start her journey from the sea in Karachi, but she was advised against it.
"After consulting my Embassy I decided to start the journey from Islamabad. I intend to start my ride Sunday from Islamabad to K2 Base Camp via Skardu before climbing K2," she said.
Sabrina Filzmoser was a 2005 and 2010 world bronze medalist, and 2008 and 2011 European champion.
She is the winner of the Super World Cup Tournoi de Paris 2006 and 2008 and winner of the Grand Slam in Paris twice. She was a bronze medalist at the Grand Prix in Cancun in 2017. In 2019 she took bronze at the Grand Prix in Budapest and participated in Tokyo 2020, her fourth Olympics.
She did Judo for peace project in 2022 from sea level in India to the top of the Mount Everest widely covered and appreciated by world media.
The European champion has also established the world's highest judo club named Everest Club in Nepal supported by International Judo Federation.
Sabrina also lauded the Pakistan Judo Federation (PJF) for their support and hospitality.
Speaking earlier, President PJF Col Junaid Alam announced the launching of a unique judo club by the newly affiliated unit Pakistan Atomic Energy Commission. 
"The name of this judo club will be 'Takbeer Judo Club' — associated with the silver jubilee celebrations of Youm e Takbeer."
"Takbeer Judo Club is a club for all. Any talented judoka doing a job in any private or public organization can be taken care of by the club. Only he/she has to sign up with the club. The club administration will scrutinise the credentials and his future prospect," he said.
"Two times Olympian, two times Commonwealth Games medalist, Asian medalist, South Asian Champion and son of our boxing legend Hussain Shah, Shah Hussain Shah has consented to be the representative of Takbeer Judo Club," he said.
"Pakistan Judo Federation is grateful that Sabrina chose our beautiful country for this peace mission. She has consented to hold talent hunt and training sessions before the expedition, during the expedition as well as after the expedition. Takbeer Judo Club has requested her to accept the post of Brand Ambassador of TJC which she has kindly accepted," the PJF president said.