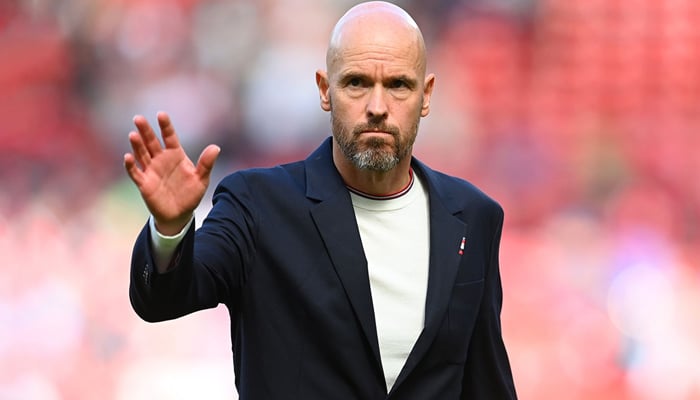 Manchester United manager Erik ten Hag is confident that his side can beat Manchester City in the final of the FA Cup today at Wembley.
He also stated that the competition has a big reputation all over the world.
"We know that we can beat them and that is important. Because everyone knows you play against a tough team, a very good team, and they win the Premier League. And so, yeah, the way they play, we admire that, but we know we can beat them," said Ten Hag.
"The FA Cup has a big reputation, not only I think in England, but I think in all the world and, over many years, that reputation is historical. So I watched as a child, we watched the FA Cup, we stayed home for it. We stopped playing football to watch the FA Cup final, so it means a lot. And I am really looking forward [to it]," he added.
The Dutch was also satisfied with his side's performance this season, which saw them finish third in the Premier League.
"We have had a good season, so far. Because there's one big game to play and we are really looking forward, and we have made really good progress. We won a lot of games this season. Yeah, so we have had a good season and the progress from the team and individuals is very good. But, yeah, we have a big test and so, when you go into a big test, that always brings you the best performance because you get challenged," he said.
Ten Hag also lauded the support his side have received from the fans.
"Yeah, as well. We worked very hard from the start, with the team, with the staff, the technical areas, but also with the communication staff, that we want to be connected with the fans because a football club is for the fans and you have to acknowledge that," he said.
"For everyone who's working in that football club, that you are playing for the fans and we are playing in the Theatre of Dreams, so you want to entertain the fans. And I think we did it many times and the fans were always behind us and I expect the same on Saturday at Wembley. They will be behind us. We have noticed previously, when we had the Carabao Cup [final and the FA Cup] semi-final, they will be behind us. It's a great game and we will give everything. And I think that's also what they can expect from us," he concluded.