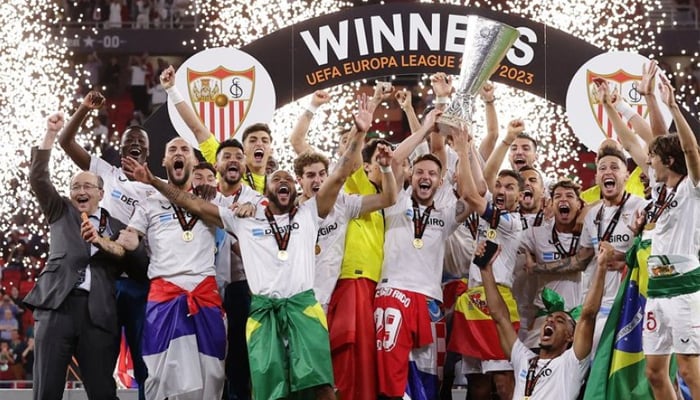 Spanish club Sevilla won the UEFA Europa League after defeating AS Roma on penalties 4-1.
The game went to penalties as both scored one goal each by the end of extra time after which Sevilla came out victorious.
Paulo Dybala of Roma scored the first goal of the match at minute 34 to give Jose Mourinho's men a lead but it did not last long as Roma's centre-back Gianluca Mancini scored an own goal at minute 55 which levelled the game 1-1.
Roma registered four shots on the target while Sevilla only managed to get three.
The game was full of entertainment as throughout the 120 plus additional minutes, Sevilla made 21 fouls and received six yellow cards. Meanwhile, Roma made 19 fouls and received seven yellow cards.
Mancini and Roger Ibanez missed the penalties after which Gonzalo Montiel, who scored the winning penalty for Argentina in the FIFA World Cup 2022 final against France, secured the title for the Spanish club with his winning penalty.
It must be noted that Sevilla have now won the Europa League for a record seven times with titles in 2006, 2007, 2014, 2015, 2016, 2020 and now 2023. Only Real Madrid (16), FC Barcelona (12), AC Milan (9), Liverpool (9), and Bayern Munich (8) have more major European titles than Sevilla (7).
Roma played their second successive European final for the first time in their history. They won the UEFA Conference League (UECL) last year after defeating Feyenoord 1-0.
Meanwhile, Jose Mourinho lost his first-ever European final. He coached five European finals before today and won all. He has won UEFA Cup in 2003, UEFA Champions League (UCL) in 2004 with Porto, UCL with Inter Milan in 2010, Europa League with Manchester United in 2017 and UECL in 2022 with Roma.
Sevilla are currently at number 11 with 49 points in La Liga points table while AS Roma stands at number six with 60 points in the Serie A points table, requiring only three points to qualify for the Europa League next season.