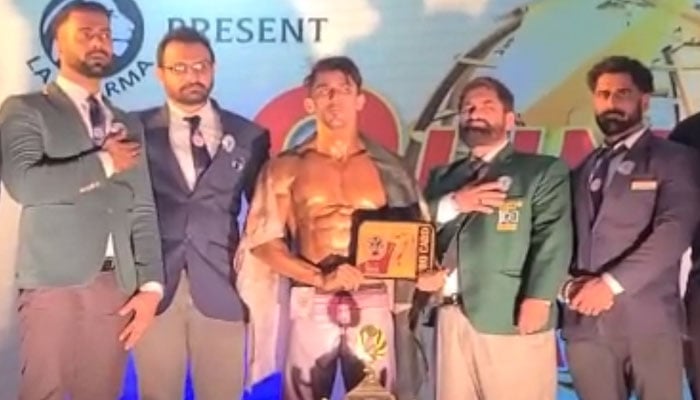 Pakistan team, under the umbrella of Pakistan Bodybuilding Federation and Natural Bodybuilding Union International, have won 14 Gold medals in the Amateur Asia Bodybuilding and World Powerlifting Championship. 
As many as 11 Pakistani bodybuilders participated in different categories of the event including bodybuilding, classic physique, men's physique, and powerlifting.
Mohammad Noman bagged most (3) Gold medals in the event. Mohammad Uzain Mirza, Mohammad Mubashir and Wasim Bashir bagged two Golds each. 
All medals list
Mohammad Noman (Jr powerlifting world champion)
Bench press - Gold 
Deadlifts - Gold
Squats - Gold
Nasir khan
Men's physique master - Silver 
Fashion model - Bronze
Mohammd Uzain Mirza
Jr bodybuilding 60 kg - Gold 
Jr classic physique - Gold
Jr men's physique - Bronze
Mohammad Mubashir
Jr bodybuilding 65kg - Gold 
Jr classic physique - Gold
Waseem bashir
Jr bodybuilding 70 kg - Gold
Jr classic physique gold medal
Mohammad Zeeshan
Sr men's bodybuilding 60 kg - Bronze
Sr classic physique - Gold
Khizer Butt
Sr men's bodybuilding 85 kg - Gold
Sr classic physique - Silver
Wajahat
Jr men's physique - Gold
Shahzaib durrani
Fashion model - Gold
Adnan sheikh
Sr bodybuilding 70 kg - Silver 
Sr classic physique - Silver
Sr men's physique - Gold