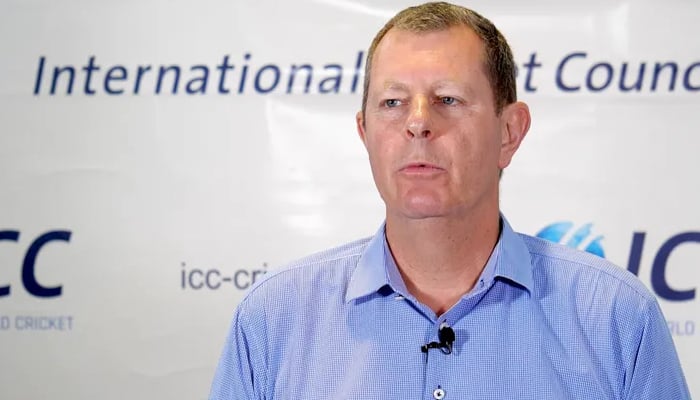 The Pakistan Cricket Board (PCB) has announced that International Cricket Council (ICC) Chairman Greg Barclay and Chief Executive Geoff Allardice will visit Pakistan on Tuesday.
During their two-day trip, Barclay and Allardice will meet top officials of the PCB.
"ICC Chairman Greg Barclay and Chief Executive Geoff Allardice will arrive in Lahore on Tuesday morning on a two-day visit, during which they will meet Chair of the PCB Management Committee Najam Sethi (also an ICC Director), PCB Chief Operating Officer Barrister Salman Naseer and other board officials," the PCB said in a press release.
"While Allardice has regularly visited Pakistan, first as ICC General Manager – Cricket and then as ICC Chief Executive, this will be Barclay's first visit to Pakistan.
"Barclay will be the first ICC Chairman to tour Pakistan since ICC President Ray Mali's visit in 2008. This will also be the first time since October 2004 when both the top two ICC officials will together visit the Pakistan cricket headquarters."
Earlier, the PCB said that it was unhappy with the new revenue model proposed by the ICC.
According to ESPNcricinfo, India's new revenue share would stand at 38.5 percent, while England and Australia would bag 6.89 and 6.25 percent respectively. Meanwhile, Pakistan is set to earn 5.75 percent of the ICC's projected earnings, which will come primarily through ICC's $3 billion media rights deal for 2024-27. It will be voted on at ICC's next board meeting in June.
"We are insisting that the ICC should tell us how these figures were arrived at," PCB Management Committee Chairman Najam Sethi told Reuters. 
"We are not happy with the situation as it stands.
"Come June, when the board is expected to approve the financial model, unless these details are provided to us, we are not going to approve it."
Sethi admitted that India deserves a significant share since it generates an estimated 80 percent of ICC revenue.
"In principle, India should get more, there is no doubt about that but ... how is this table being developed?" Sethi said.