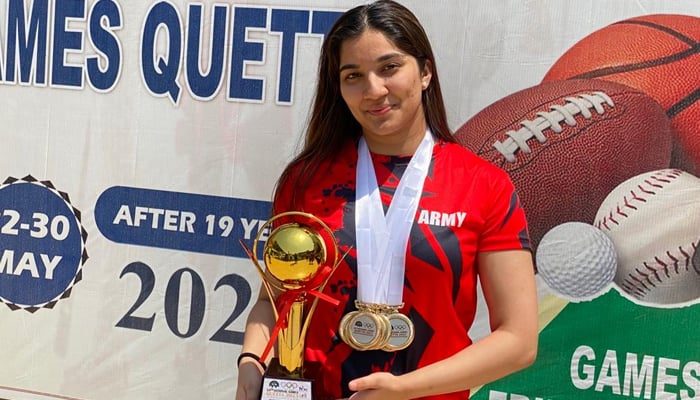 LAHORE: Olympian Bisma Khan was crowned the best swimmer of the ongoing National Games after clinching eight gold medals.
The Pakistan Army swimmer claimed five gold medals in individual categories, while the remaining three came in relay.
The swimming events of the National Games were held at the Nishtar Park Sports Complex in Lahore.
"I was focused on winning the award for best swimmer from the start of the event. My preparations were good since I also participated in the National Championship," Bisma told Geo News on Sunday.
"I decided against participating in the main events since my team needed me in other categories. I'm happy that my team was able to win the most number of medals," she added after Pakistan Army bagged the first position in swimming with 16 gold, seven silver and three bronze medals.
After excellent performance in the National Games, Bisma is now focused on the World Aquatics Championships which will be held in Fukuoka, Japan, from July 14-30 this year.
"I'm working hard for the world championship, which is a qualifying round for the Olympics, and hopeful about putting up a good show," she said.
Earlier, Olympian swimmer Haseeb Tariq won 100m backstroke gold in the 34th National Games. Haseeb, who represented Pakistan in the Tokyo Olympics in 100m freestyle, clocked one minute and 1.47 seconds of time to clinch gold for Army.
Waqas Hussain of Army with a time of 1:04.97 got silver while Rayan Sadiq Lone of Punjab with a time of 1:05.91 captured bronze. The 800m freestyle gold went to Amaan Siddiqui of Army who clocked nine minutes and 15.27 seconds.
Azlan Sohail of Sindh with a time of 9:24.04 captured silver and Mohid Sadiq Lone of Punjab with a time of 9:28.74 claimed bronze.
The 50m breaststroke gold went to Daniyal Ghulam Nabi of WAPDA who clocked 31.75 seconds, Danish Arshad of Army with 33.02 got silver and Hamza Anwar of WAPDA with a time of 33.24 secured bronze.
In the 200m freestyle UAE-based Ahmed Durrani of Army claimed gold with a time of 1:58.96, Amaan Siddiqui of Army got silver by clocking 1:59.55 and Syed Azlan Sohail of Sindh claimed bronze with a time of 2:06.41.
Azhar Abbas of Army with a time of 59.66 seconds got 100m butterfly gold, Ahmed Durrani of Army with a time of 1:03.74 claimed silver and Daud Nawaz of Punjab secured bronze by clocking 1:05.30.