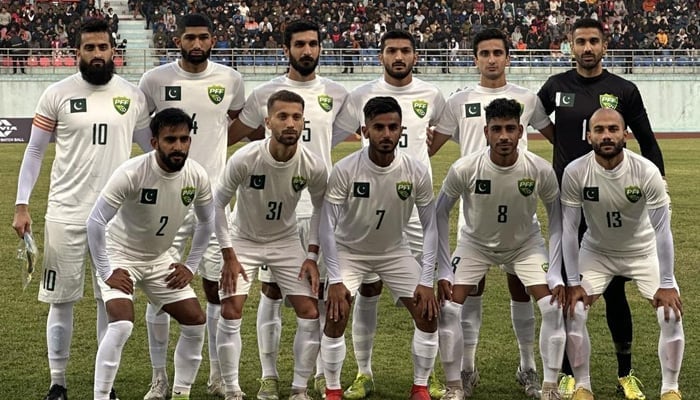 KARACHI: The next few months will be extremely busy for the Pakistan football team which has set its eyes on creating a stir in this year's World Cup Qualifiers to be held in October.
Aiming to do well in the Qualifiers Pakistan's head coach Shehzad Anwar has been trying to instill firepower in a team which lacks experience. And he cannot do this without bringing in foreign-based players, especially those of Pakistan origin who play on foreign soil at the highest level.
The recent big news is that Aston Villa academy graduate and former England Under-20 captain Easah Suliman has received international clearance to represent Pakistan. Suliman, who scored in the final in England's Under-19s Euros triumph in 2017, is now in line to make his Pakistan debut, maybe in the next few weeks or so.
The Green-shirts, on the road for preparation for the World Cup Qualifiers, have to feature in a multitude of international events, including next month's SAFF Championship which India is going to host in Bengaluru from June 21 to July 4.
Before that Pakistan will be fielding in a Four-Nation Cup in Mauritius, also involving Kenya and Djibouti in early June.
Besides Suliman, Grimsby Town midfielder Otis Khan is expected to be used, with the aim to create a unit which could impress in the World Cup Qualifiers where the authorities want to see Pakistan clear at least the first hurdle and qualify for the second round.
Pakistan football growth has been so inconsistent that its national brigade always exits at the first hurdle in the World Cup Qualifiers. Let's see how NC's chairman Haroon Malik and his coaching staff, which also contains a couple of practitioners from Brazil, tackle the things.
Although Pakistan was seen using foreign-based players for the last few years, it did not leave any big impression as far as results are concerned. Let's see how Haroon Malik and Shehzad Anwar's strategy works this time. Yes, the presence of both Otis and Suliman should make a huge difference but it is a fact that football is a team game and you need players to jointly pose a challenge to the opposition. A big one or two players can be tackled by the opposition with a solid strategy. But it will be interesting to see more foreign-based players in the line-up as we already have a solid pool from Denmark and other nations and mostly they have been tested time and again.
Yes, it's good to see foreign-based players taking keen interest in Pakistan football which needs a massive support to revive it following years of inactivity due to internal politics which has destroyed several potential batches of players. We were also deprived of some star players like Kaleemullah who passed his prime as his crucial years were wasted due to inactive Pakistan football because of the tussle among factions and international suspension. Kaleem mostly played leagues abroad during all these years but injury has now pushed him to the wall.
Pakistan is set to begin its preparation for the coming events in a few days. The authorities had to wait for the 34th National Games football event to end where Police created history by winning their maiden title when they whipped Shehzad Anwar's team Pakistan Air Force (PAF) 3-0 in Quetta.
After a few welcome games in Mauritius, Pakistan will be looking to impress in SAFF Cup in India where the Green-shirts have been placed with India, Kuwait and Nepal in the group. Kuwait is the invitee.
We have never won the SAFF Cup and this time too we are not in a position to win it as the national brigade is in rebuilding phase following years of turmoil, an issue which FIFA and AFC want to resolve but we have seen during the last few years that even their appointed NCs have failed to hold the PFF elections so far. Election is the only way to start a journey afresh towards the development of football in the country which has massive potential both at home and abroad.
I think if statutes cannot be changed then there is no way why elections cannot be held. It's time for NC to take this matter extra seriously and go for elections as soon as possible. We see these days that pressure is being built on NC by legislative committees and football stakeholders and there is a strong perception that NC is not going to hold elections.
Coming to Pakistan's engagement, it's fortunate that AFC held draws on Thursday for the AFC Under-23 Asian Cup 2024 Qualifiers. Pakistan have been bracketed in Group D with the 2016 champions Japan, hosts Bahrain and Palestine. Pakistan will begin their group journey with the game against Japan on September 6 in Bahrain, followed by their shows against Bahrain and Palestine on September 9 and 12, respectively.
The 11 group winners and the four best second-placed outfits will join hosts Qatar in the 2024 Finals. Qatar has also been drafted in the Qualifiers in order to get some experience.
As Pakistan has many players in the national senior side who are under 23, it will definitely help them to learn while playing against a major side like Japan in the Under-23 Qualifiers before representing their senior side in the 2026 World Cup Qualifiers in October.
Although we should not expect much from our young football team in the coming months, we should back the brigade as at least the national team has become active after years of uncertainty.
Football is the most sought-after sport in Pakistan and once it is put on the development path by the next elected body then things will change and we will be going towards achieving some big goals in the next few years. But it mainly depends on what kind of people come to run the football affairs in the country. Hope things go in the right direction in the coming months which are very crucial in Pakistan football.