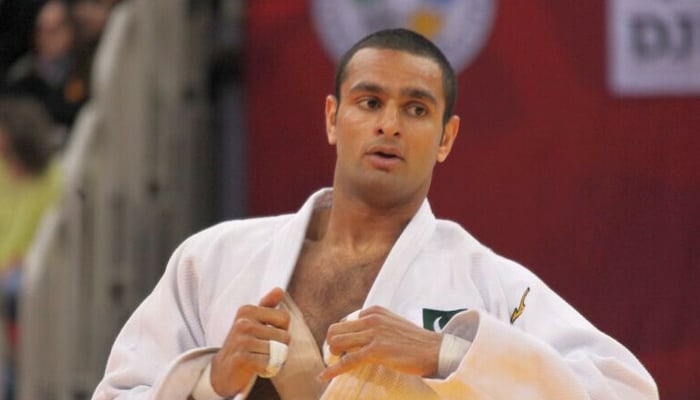 Judoka Shah Hussain Shah won his second Gold during the ongoing 34th National Games at Ayub Stadium, Quetta. 
On the last day of Judo event, Army finished at the top with 11 Gold medals. Shah bagged Gold in men's 100+kg category. It was his second Gold after he previously won in the open category. 
In men's100+kg category, Navy's Hamid received Silver medal. In men's 100kg category, Army's Moin Aslam bagged Gold whereas WAPDA's Tayyab Raza won Silver. 
Navy's Nazia Tufail bagged Gold medal in women's 70kg category while WAPDA's Shumaila Gill received Gold in women's 63kg category.
Shah won't feature in Asian Games, Paris qualifiers
Two-time Olympian judoka Shah Hussain had said that he will not be able to feature in the forthcoming Asian Games and 2024 Olympics Qualifiers because he is not in a position to prepare accordingly.
"No, I don't have any plan to either feature in the Asian Games or Olympics Qualifiers," Shah told 'The News' in an informal chat from Quetta where he is representing Army in the judo competitions in the 34th National Games.
"The big issue is that it's too costly to prepare professionally for these events, especially Olympics. I cannot afford to spend from my own pocket at this moment," Shah said.
Shah is the only Pakistani judoka in history who featured in the Olympics and that too twice by qualifying for the world's major extravaganza on the basis of the continental quota both times. He did so in the 2016 Rio Olympics and 2020 Tokyo Olympics.
However, he failed to impress in both the Olympics. He had started featuring in the 2024 Olympics Qualifiers a few months ago and played in three successive events in Abu Dhabi, Perth and Baku and in Perth's Grand Prix he delivered well which also boosted his world rankings and it showed that Shah would qualify easily for the Olympics. But following these events due to financial constraints, Pakistan Judo Federation (PJF) failed to send the country's top lot including Shah to a few qualifying events. Although still there is chance to qualify for Olympics Shah is not ready for the hard task due to various reasons.