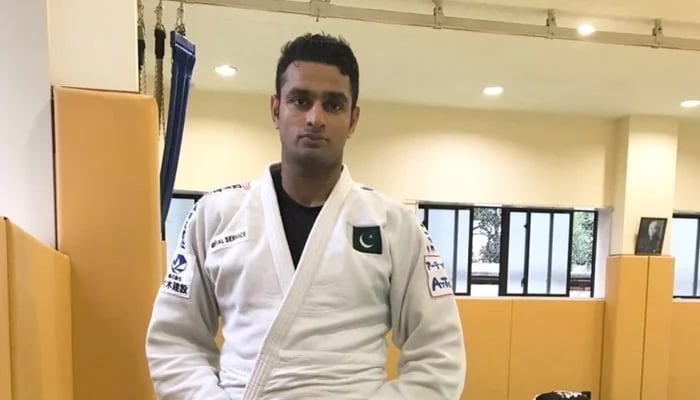 KARACHI: Two-time Olympian judoka Shah Hussain on Wednesday said that he will not be able to feature in the forthcoming Asian Games and 2024 Olympics Qualifiers because he is not in a position to prepare accordingly.
"No I don't have any plan to either feature in the Asian Games or Olympics Qualifiers," Shah told 'The News' in an informal chat from Quetta where he is representing Army in the judo competitions in the 34th National Games.
"The big issue is that it's too costly to prepare professionally for these events, especially Olympics. I cannot afford to spend from my own pocket at this moment," Shah said. 
Shah is the only Pakistani judoka in the history who featured in the Olympics and that too twice by qualifying for the world's major extravaganza on the basis of the continental quota both times. He did so in the 2016 Rio Olympics and 2020 Tokyo Olympics.
However, he failed to impress in both the Olympics. He had started featuring in the 2024 Olympics Qualifiers a few months ago and played in three successive events in Abu Dhabi, Perth and Baku and in Perth's Grand Prix he delivered well which also boosted his world rankings and it showed that Shah would qualify easily for the Olympics. But following these events due to financial constraints Pakistan Judo Federation (PJF) failed to send the country's top lot including Shah to a few qualifying events. Although still there is chance to qualify for Olympics Shah is not ready for the hard task due to various reasons.
Shah now targets the South Asian Games which Pakistan is supposed to host early next year. 
"South Asian Games is my target now," Shah said. 
Injury is also one of the matters which seem to have dampened Shah's resolve to go for Olympics Qualifiers and Asian Games where he is yet to get a medal. He is facing a serious knee injury and for the ongoing National Games he did not prepare. But as he has the experience he featured in the event and won gold in the open category on Tuesday. He is also set to feature in the -90 kilogramme competitions on May 26 and there too he is likely to claim gold.
Shah secured double golds in the 2019 National Games in Peshawar while representing his department Army. Shah is the son of former Pakistan's top boxer and the 1988 Seoul Olympics bronze medallist Hussain Shah who is acting as a trainer in Tokyo.Meanwhile, Shah Hussain was impressed with the young talent in the National Games in Quetta. 
"I am happy that I see some top talent in judo here but the fighters need to work on their skills," Shah said. "This is the perfect time to work on their skills as going forward it would be too difficult to correct their techniques when they get mature," Shah said.
"I am thinking how to correct them. The issue is that during these Games I cannot do so by teaching them for a few hours. Yes I plan to guide them via YouTube or any online tool as our country needs some fighters to serve the nation in international circuit in future," Shah said. 
Shah has grown in Japan's solid judo environment and has trained with the world champions and has learnt from the world champions. After Rio Olympics in 2016 he worked hard on his skills and was seen a much better fighter during his Tokyo Olympics qualifying journey.
He has to his credit two medals in the Commonwealth Games, a silver in the 2014 Glasgow Commonwealth Games and bronze in the 2022 Birmingham Commonwealth Games besides having claimed a handful of medals in the South Asian Games and Asian Championships.