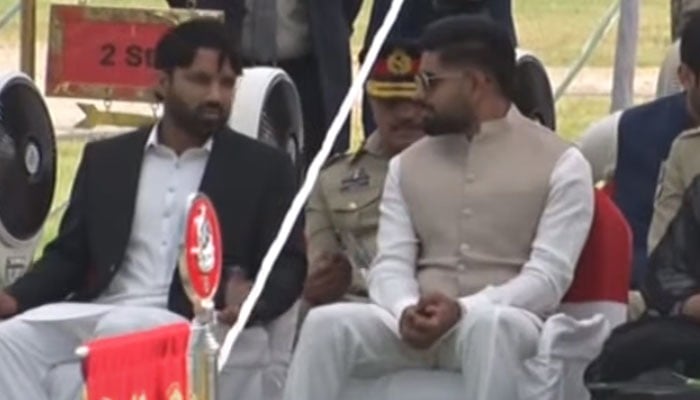 Pakistan captain Babar Azam and wicketkeeper-batter Mohammad Rizwan were in attendance at the General Headquarters, Rawalpindi, as the country observes Youm-e-Takreem Shuhada-e-Pakistan (Martyrs Reverence Day) today (Thursday).
The country is observing Youm-e-Takreem Shuhada-e-Pakistan to remember and pay rich tribute to the martyrs who laid their lives while defending the motherland and its people.
Chief of Army Staff General Asim Munir was the chief guest in the event.
During the ceremony, rich tribute was paid to the martyrs and prominent personalities laid floral wreaths at the martyrs' monument.
Some of the prominent people that attended the ceremony and laid floral wreath included former army chief Gen (retd) Qamar Javed Bajwa, former chairman joint chiefs of staff committee Gen (retd) Nadeem Raza, Babar Azam, Mufti Muneeb ur Rehman, law enforcement personnel, students, teachers and other members of the society.
Apart from this, numerous events featuring Quran recitation and prayers have been organised across the country. Moreover, several commemorative ceremonies will be held at the martyrs' memorials as well.
The gatherings are aimed at serving as a platform for the nation to honour the courageous heroes and their indomitable spirit and unwavering dedication. Martyrs of Pakistan Army, Rangers, Frontier Corps, Frontier Constabulary and other law enforcement agencies will be remembered.
In his message, President Arif Alvi said that the entire nation was proud of its valiant martyrs who displayed the spirit of patriotism and fearlessness in testing times throughout history.
"The nation owes to the heroism and sacrifices offered by the jawans (soldiers) and officers of our Armed Forces, including Pakistan Army, Rangers, Air Force, Navy, Police, and other security institutions that made Pakistan's defence impregnable," a press release issued by President Secretariat Press Wing stated.
The president acknowledged the armed forces' services for crushing the menace of terrorism and assisting the fellow countrymen during natural calamities and pandemic.
"Let us pledge on this day that we will never forget our valiant martyrs and reiterate our commitment to always honour them and express our undying love for these brave sons and daughters of the nation," the statement added.