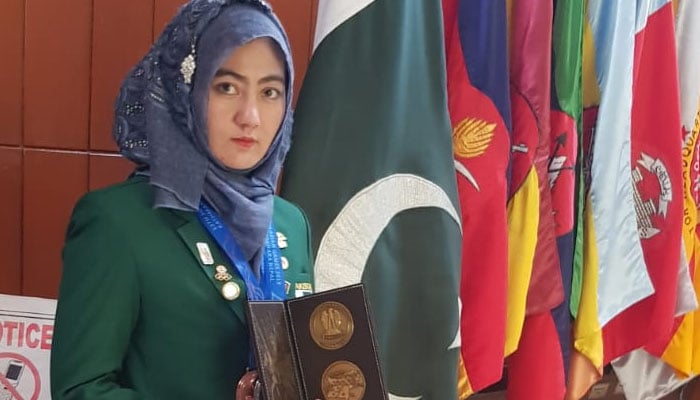 Women from Hazara community represented Pakistan in mixed martial arts at the international level. 
From Kulsoom Hazara to Nargis Hazara, girls from Hazara community made Pakistan proud around the world. 
Naz Gull, who recently represented Pakistan at the South Asian Championship in Sri Lanka last year, spoke to GeoSuper.tv exclusively after she bagged a Silver medal in Kata during the ongoing 34th National Games. 
"I feel very lucky to represent Pakistan at the international level," she said. "Last year, I won Silver in South Asian Championship. It was a great experience and I am looking forward to more such experiences in the future," she added. 
Naz belongs to a middle-class family in Quetta. She faced a lot of problems in her family while pursuing her dream to become a Karateka. 
"I started Karate back in 2009. The interest generated from fellow Karatekas from our community," she shared. 
"My parents were against me. They didn't support me to play this sport. But, it was my passion to do something in my life. I never gave up and kept on working hard," she added. 
Later on after 2017, she got partial support from her parents followed by her medals in different events. 
"After 2015, my brother started supporting me. He realised that I was too good in this sport and have a future ahead. I won a lot of medals during this time which helped me get his support," she reiterated. 
"In 2017 after my brother convinced my parents, they also understood my passion and started supporting me," she recalled. 
Naz sees a bright future for her. "I want to represent Pakistan in different tournaments around the world. The ultimate goal is to make my country proud," she concluded. 
It must be noted here that Naz bagged Silver medal in the South Asian Championship last year.