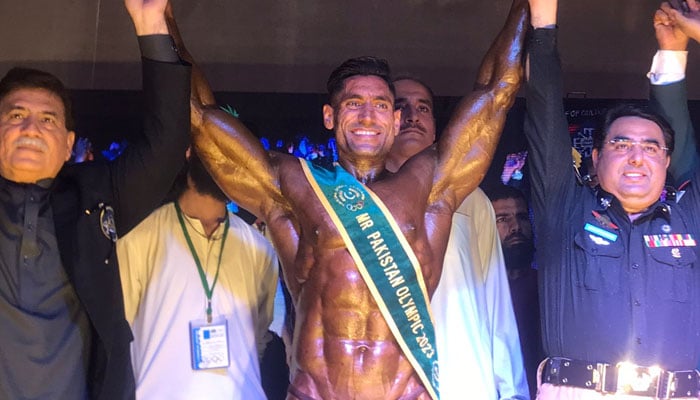 Peshawar-born Yasin Khan, who represented Water and Power Development Authority (WAPDA) in the ongoing 34th National Games, won Mr Pakistan Olympic contest. 
While competing among the top bodybuilders from across the country, Yasin remained on top.
In the final round of the event, Yasin competed with Karachi-born Fida Baloch. He was voted as the best poser which earned him Mr Pakistan Olympic 2023 title. 
"It's a very proud moment for me," the champion bodybuilder said while speaking to GeoSuper.tv. "It was a tough competition overall. I worked really hard to reach this stage. I am extremely thankful to my parents, trainers and friends for their all-out support," he added. 
Yasin was highly appreciated by the people of Quetta who watched his competition throughout. After he was named the winner, the people of Quetta took him on their shoulders and took a round of bodybuilding arena. 
"I didn't expect this much love from the people of Quetta. I would like to thank all of them for their support and appreciation," he praised. 
Yasin, who has won several accolades previously, aims to represent Pakistan at a higher level. 
"I want to represent Pakistan at the international level. I have won many titles before but I want to do much more than this for my country," he said. 
"Our government needs to support bodybuilders. Our sport is very expensive. We need financial support to represent Pakistan in the world," he concluded. 
Team event
WAPDA earned 150 points to win Gold medal in team category of the bodybuilding event. Pakistan Army, with 76 points, bagged Silver whereas hosts Balochistan (15 points), managed Bronze medal.